Detroit school to give 'modesty ponchos' to girls who violate prom dress code
A Catholic high school in the Detroit area plans to hand out 'modesty ponchos' to girls whose prom dresses are deemed too 'revealing'.
The ponchos are now on display at Divine Child High School in Dearborn.  A nearby note reads:
"If your dress does not meet our Formal Dance Dress Requirements — no problem! We've got you covered — literally. This is our Modesty Poncho, which you'll be given at the door."
The tragically unhip note concludes with a smiley face.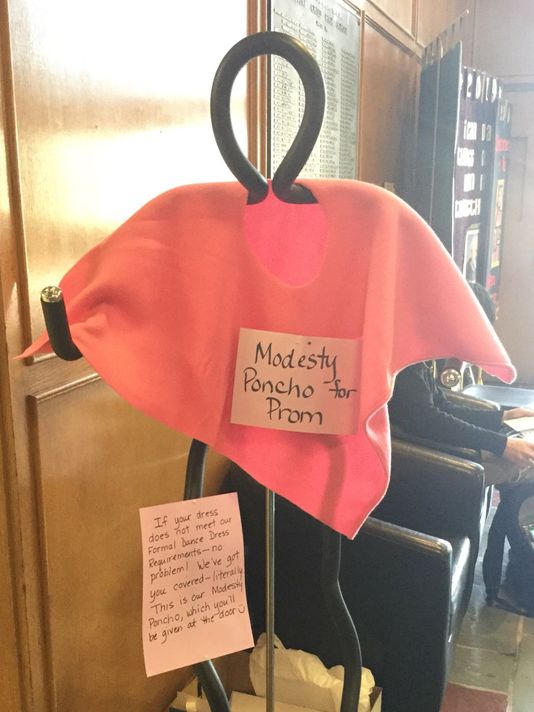 The school already requires students and parents to sign off on a detailed agreement of dress guidelines, according to a report by WJBK-TV (Channel 2). 
The modesty ponchos were the brainchild[sic]  of theology teacher Mary Pat O'Malley, WJBK reported.
"We are trying to focus on the inner beauty and not draw attention to something that doesn't need attention drawn to it," O'Malley told WJBK. "It was really intended as a deterrent and a lighthearted one at that."
Divine Child junior Erin Wade bought her prom dress — a dark gray, glittery, mermaid-style gown — back in January.
Both Erin and her mother believe the dress is modest. But when the modesty poncho made its appearance in the school's front lobby early last week, Erin said, she became worried about the neckline. She's now on the hunt for a new dress, with the May 12 prom just days away.
"It's a very stressful time," she said.
The ponchos have been rightly ridiculed and criticized on social media.
Twitter user @JennyLessnau wrote:
"I really have a problem with the fact that if you happen to have big boobs at DC, and wear a dress that is even a little low, that will warrant a 'modesty poncho' EVERY time. they basically body shame girls if they're bigger than a B cup."
Personally, I prefer the alternate Catholic School attire