Buy yourself a hot virgin for only $188,000
A 19-year-old from Sydney whose body is hot as fuck is willing to sell her virginity for only $250,000 (AUD) which is about $188k in American money.
The girl whose identity is a mystery posted the offer to buy her virginity on the classifieds site Locanto, in an advert titled, "Virgin seeks you, Sydney City".
The women who says she is 5 foot 2 inches tall (161 cm) and weighs about 99 pounds (44 kilos) has an athletic body.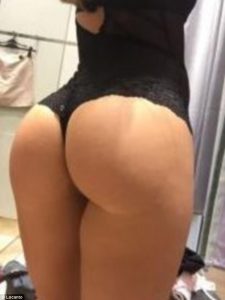 "Hey, I am a 19 years old girl who wants to sell her virginity," the advert stated, before listing a series of conditions for the sale.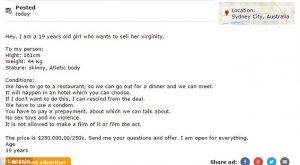 "We have to go to a restaurant, so we can go out for a dinner and we can meet," it continued.
"It will happen in an hotel which you can choose. If I don't want to do this, I can rescind from the deal," it went on.
The advert stated that "we have to use a condom" and warned any potential buyer: "You have to pay a prepayment, about which we can talk about."
It was also clear there were to be "no sex toys' and "no violence".
"It is not allowed to make a film of it or film the act," the ad continued.
The advert concluded "The price is $250.000,00/250k. Send me your questions and offer. I am open for everything,"