Trinity St. Clair Exploiting and Betraying Vulnerable Sex Workers
Never rely on a booker who is also an escort competing with you in the same market. 
It both infuriates and saddens me to see vulnerable sex workers preyed upon, manipulated, and screwed over by exploitative booking agents, and Trinity St. Clair is one of the worst offenders.
First, there are a coupe of types of women St. Clair, the woman behind Porn Companions and Porn Star Assistant, uses in her schemes:
Here's Holly Hendrix. Nice girl; she was set to be an adult film superstar.
She was the 2017 AVN Best New Starlet, and winner of Most Outrageous Sex Scene, but personal problems sent her careening off track.
Two days ago she tweeted "I am at my lowest point in life", and added: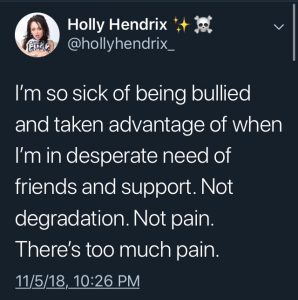 Hers was a precipitous fall: Holly went from promising newcomer to Best New Starlet to the second tier of James Bartholet's roster in a very short time.
After showing up at Exxxotica New Jersey last weekend with no hotel reservation and needing a room to crash in, Holly Hendrix is on tour for Trinity in Boston, Mass.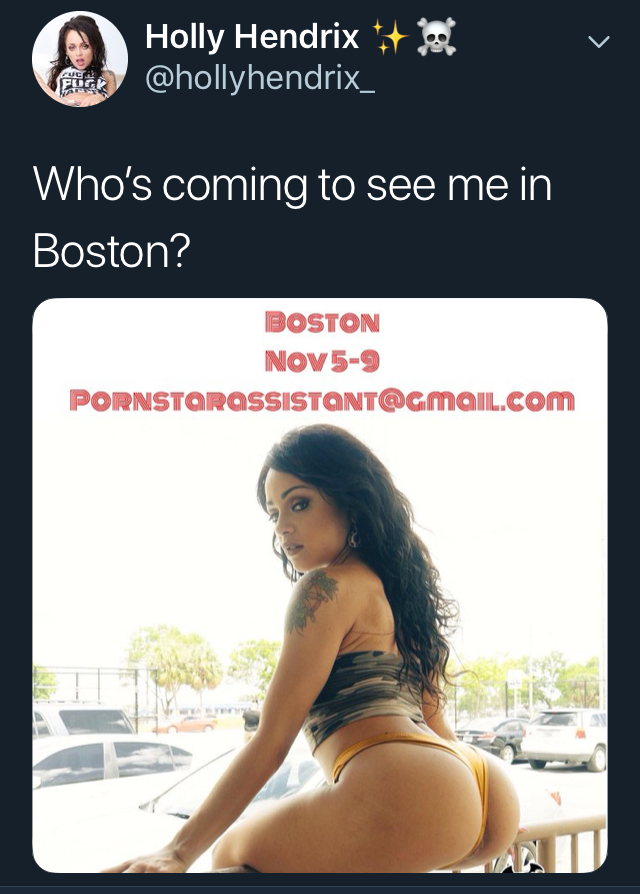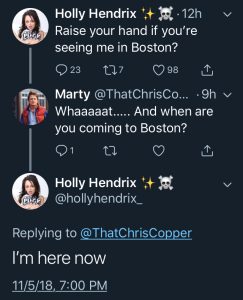 Those 'in the know" tell me that Boston is pretty dead for escort tours right now. But you can be damn sure Trinity St. Clair didn't tell that to Holly Hendrix. I can guarantee that Trinity the liar, shoplifter and cheese thief promised her the world; I can hear her now!
Speaking to the matter of why Holly, who has struggled with personal demons, would end up with bottom-feeders like Bartholet and St. Clair, a person with inside knowledge of the situation told me confidently and under condition of anonymity, "they go to whoever gets them drugs or makes it easy for them to get drugs."
Veronica Rodriguez is another gal on Trinity's roster:
Unlike Holly Hendrix, 27-year-old Veronica is not exactly an award winning adult film star (unless you count her 2013 Fanny Award for Ethnic Performer of the Year).
Veronica is a known liar and con artist. Naturally she'll end up working with the likes of Trinity St. Clair.  With sex workers like these on the roster, I hope clients are hiding their wallets (as well as their cheese plates)!
The scam
So, how are these young women — all consenting adults — being exploited, you may ask?
It's because Trinity St. Clair has a long-running bait and switch scam.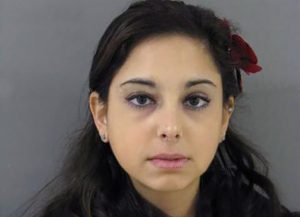 You see, she'll go out on the road with an escort during their tour. When a high-dollar booking comes in for that escort, Trinity (using a false name at the the other end of emails or text messages) takes the deposit and confirms the date.
Then, sometime later, Trinity tells the client that the escort of their choice is not available (or has flaked, or has a drug problem, or was arrested, or was beaten up by her pimp boyfriend) — but offers the legendary Trinity St. Clair as a replacement!
Wow, lucky guy!
In effect, Trinity (who is almost never home in L.A. these days) uses these desperate vulnerable sex workers as bait in her churn and burn operation.
The girls go home broke, and vow to never work for Trinity again. So, Trinity picks up some new girls and fills their heads with promises of huge paydays if they sign with her.
Rinse, repeat.
Remember, ladies, never trust a booker who is competing with you in the same market. It simply doesn't make sense.
And if your booker has to keep coming up with new company names and new email addresses the way Trinity St. Clair does, it's because she has burned clients (for instance, the girl never shows up, but she keeps the deposit). In other words, her churn and burn schemes squander any 'good will' she may have cultivated from clients, and your bookings will suffer.