There is always some low life trying to pretend to be an agent, a producer or something of the kind. Billy Parks likes to mix things up and pretends to be both and sometimes just for fun, he also pretends to be a talent scout for mainstream mega modeling agency William Morris.
This is what he looks like.
Thanks to Chloe Rose from My Free Cams, we have learned quite a bit about this low life. Here are some of her tweets about him.
HEY GUYS! just your local LA cam girl here letting you know there is a man named BILLY PARKS who is going around to young women in the LA area and propositioning them with "arrangements". He offered my friend a large sum of money to see him (which she did) and scammed her…
He claims he works for large talent agencies and even goes as far as making fake business cards etc. After my friend became suspicious she found multiple reports about him on google and he is notorious for taking advantage of young women in acting and using his fake position…
To try to get women WAY out of his league to sleep with him. He's fucking trash and uh ya here's his phone number 424-330-8774 if you feel like sending him dick pics or anything else that would ruin his day.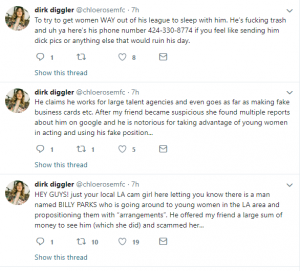 Another lose to avoid at all cost.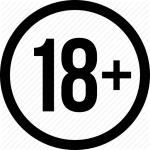 Bringing you all the insider information from the xxx industry.