Evil Angel Bans August Ames Bully Jaxton Wheeler
In the wake of the sudden death of beloved adult performer August Ames, presumed a suicide, John Stagliano's Evil Angel Video has honored Ames' memory and banned performer Jaxton Wheeler from appearing in any scenes for the company.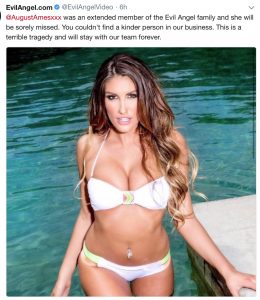 Wheeler is the "pansexual" psycho bully who savaged Ames, 23, on Twitter after she expressed her opinions and preferences when it came to who she allowed inside her body.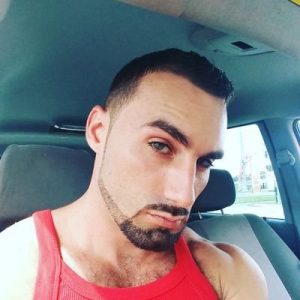 Today, in the wake of reports of Ames' tragic death (a story which we broke on this site), Jaxton Wheeler set out to do damage control. But although he seemed to have moderately better control over his anger issues, he still managed to make himself look even more like a douche.
So, the way Wheeler saw it, Ames just didn't get it, so he "used her platform" to tackle what he thought was an important issue.
Like this: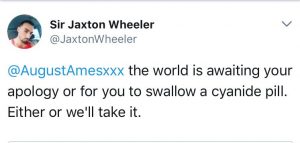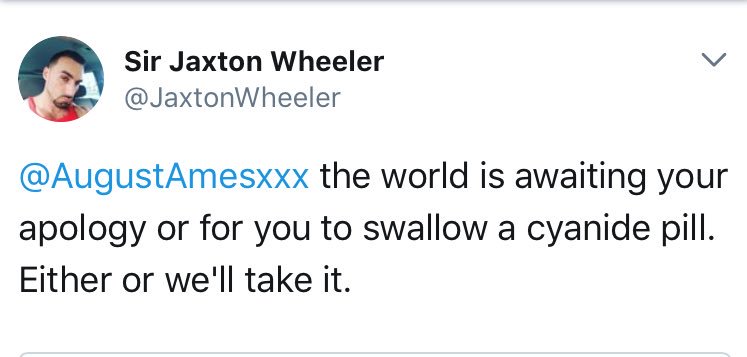 Not only is he quite the loquacious charmer, he's also dead wrong about testing standards in gay porn (although it is true that he would have to undergo "straight" porn's PASS testing regimen before he could perform in any fluid exchange scene with a female performer).  But that's beside the point. The point is, or should be, how can we discuss issues without piling on like a Stalinist lynch mob?
Ames was talking about mitigating risk for herself. You know, choice, agency and bodily integrity, subjects that the LGBTQ community, like the sex worker community, has been talking about for years.
Except with people like Jaxton, you have right to choose. . . so long as they agree with your choice.
Evil Angel is the first adult company to tell Jaxton Wheeler to fuck off, and more will follow.

I never felt more satisfied or optimistic than when I rode the river in my youth.