Urban X Awards Names Host Who Refuses To Do IR!
Did you see the article on avn today? "Organizers for the 2019 Urban X Awards have announced the hosts for tis year's ceremony: Nina Elle and Gia Milana. These two ladies really exemplify the Urban X Awards today and we are very happy to have them as our hosts," said event producer Gianna Taylor.
How the fuck is a girl who refuses to do IR and is half black but denies it saying she's a Latina instead hosting an award show for black performers?
Look at her scenes,  Shay Evans or Gia Milana, whatever name she wants to go by now has never done IR.
That's fucking funny shit right there.
We looked into the allegations that Shay Evans aka Gia Milana hasn't done any IR and found a scene where she was credited as doing IR from MOFOs from their website EbonySexTapes.com. But turns out her scene performer was white. The only black person in the scene was her.
So who knows, maybe now she's embracing her black heritage.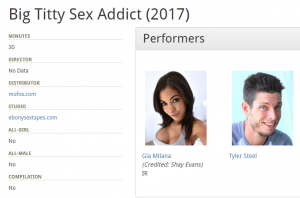 I will admit though this is a strange move for the Urban X Awards who in the past has always been proud that they supported only performers who were not anti-interracial like she has been during her entire career.