Is Trinity St. Clair exploiting young girls like Keisha Grey after she was arrested?
Hey Mike man, did you see that shit that Trinity St. Clair did? I know you are probably rolling your eyes going oh shit what now? lol Well, I don't know if you know or not but Keisha Grey got busted for drugs in March down and Florida and low and behold, who exploits the poor girl now that's she down on her luck? Trinity St. Clair of course.

Trinity St. Clair is now pimping out Keisha Grey on her Porn Companions website. She's not even going to the highest bidder. Keisha Grey is hot. She should be going for top rates, but she's not. I contacted Trinity to book Keisha and was shocked how low she was willing to come bang me for. I feel bad for Keisha Grey. She got busted for drug possession in Florida. That's not fucking fun for anyone. But what kind of trash exploits a girl who is down on her luck like that?

Man Mike you've gotta let people know to avoid people like Trinity St. Clair. She's nothing but trouble. She tricks a girl into doing privates, she knew her house was hot but she still kept booking scenes, letting producers get fucked over with fines. There is so much fucked up shit Trinity St. Clair has done. How has she not been run out of the industry by now? Look at Keisha Grey's mug shot. The girl clearly needs help, not be taken advantage of by low life scum like Trinity.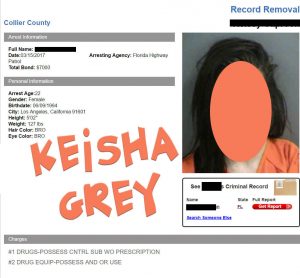 I looked into this and Keisha Grey was in fact booked in Collier County, Florida on 3/15/2017 for possession of a control substance without a prescription as well as being in possession of drug paraphernalia. She bonded out the next day for $7,000 and her court date was set for April 10, 2017.
You can see her mug shot listed above. I blocked out her real name, from the image sent to us, out of respect for her privacy.
No mention of this incident was made on Keisha Grey's twitter account, nor her association with Trinity St. Clair. As you can see however from the screen capture below, Keisha Grey is in fact, right on the front page of Trinity St. Clair's escorting website.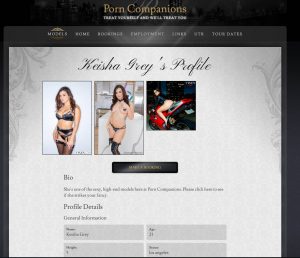 I personally don't have any problem with a girl escorting to make some extra money, especially if she isn't getting the work, but I also agree with the person who wrote in about this whole thing. Don't take advantage of a girl who is having problems.
Don't blast her name and photo everywhere to try and draw in John's. Man Trinity St. Clair just doesn't seem to have any fucking ethics or morals at all. Is there anything she won't do?