Oxfam worked to 'contain' prostitution and sexual harassment scandal surrounding aid worker in Haiti
"I was gonna use a condom, but I figured, 'Hey, when's the next time I'm gonna be in Haiti?"
Oxfam has been engulfed by a second sex scandal over the conduct of its staff in earthquake-torn Haiti.
The charity put female aid workers and survivors of the disaster at risk by keeping a senior employee in the country for more than a year after realizing that he was a sexual predator, according to an internal report obtained by The Times.
[Pearl clutching alert…]
It also appeared to have sanctioned prostitution.
Containment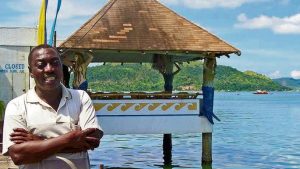 Raphael Mutiku, who headed Oxfam's team installing water supplies in Haiti after the earthquake in 2010, kept aid received a final written warning in June that year when he was accused of harassing female colleagues, the documents show.
Six months later it was alleged that Mr Mutiku, a Kenyan in his 40s, was paying young women for sex at his Oxfam accommodation. Instead of dismissing the engineer, his manager at the charity's headquarters in Oxford said he hoped Oxfam could "contain this".
Indiscretion
Andy Bastable, Oxfam GB's most senior public health engineer with responsibility for teams in emergency zones around the world, wrote: "I'm not judging Raph, he has a desire that seemingly needs to be filled — can he turn off his libido I wonder?"
Mr. Bastable, who has been with the charity for more than 25 years, added: "There is no law within Oxfam that prohibits using prostitutes . . . however, it seems he is not being discreet."

Oxfam said last night that Mr Bastable had "apologized for the unacceptable tone of his email, which was totally inappropriate". Mr Mutiku has "strenuously" denied paying prostitutes.
The leading aid organization now faces a government inquiry and a temporary ban on funding from the Department for International Development (Dfid) after The Times revealed how Oxfam had covered up a prostitution scandal in Haiti that led to seven men being fired (or allowed to resign).
Paying for sex is a criminal offense in Haiti.
[Boy, that law sure works!]
READ: Oxfam in Haiti: 'It was like a Caligula orgy with prostitutes in Oxfam T-shirts'
Release
Mr Mutiku was one of those dismissed. However, when allegations of prostitution first arose in December 2010, 11 months after an estimated 230,000 were killed in the disaster, his case was left in the hands of Oxfam's country director in Haiti, Roland van Hauwermeiren.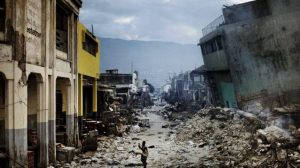 Mr Van Hauwermeiren, a former army officer now living in retirement in Belgium, had worked with Mr Mutiku for years and declared him "totally free of charge". However, he too was dismissed after he admitted that prostitutes visited his Oxfam villa.
In the summer of 2011 a whistleblower flew to Oxford and confronted Dame Barbara Stocking, then the chief executive, with the claims of sexual misconduct. An investigation team was sent to the Caribbean and interviewed Mr Mutiku. He denied paying for sex but said that his previous behaviour towards female colleagues was "appalling".

The 33-page report into the case says the decision to let Mr Mutiku to stay in his job after 2010 "placed female Oxfam GB staff members at risk of further sexual harassment and sexual assault".

Oxfam could not prove the use of prostitutes but the report, prepared by three investigators, added that paying for sex would be "a serious abuse of power by an Oxfam employee sent to Haiti to assist in its reconstruction — [using] power and money to exploit women who have been forced into prostitution due to the extreme desperation that can be found all over Haiti".
The report's authors urged Mutiku's dismissal.
Oxfam's code of conduct now explicitly prohibits paying for sex.
I never felt more satisfied or optimistic than when I rode the river in my youth.