'The Duece' Star Maggie Gyllenhaal calls for decriminalized prostitution
Maggie Gyllenhaal, star of "Secretary",  believes prostitution should be decriminalized.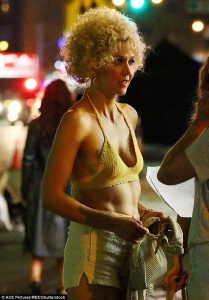 The actress plays a street worker single mother in the TV show 'The Deuce', and she thinks it would be safer and healthier for everyone involved in the illicit industry if it was no longer a criminal act.
She said: "Who needs a union more than a prostitute? I'm quoting David Simon [the show creator] actually and I agree with him.
"My instinct is to say decriminalize it and make sure everybody's safe, healthy and taken care of. "
Gyllenhaal – who has daughters Ramona, 11, and five-year-old Gloria with husband Peter Sarsgard – has a producer credit on the program, which also stars James Franco, because she wanted to be involved in the "storytelling process".
Gyllenhaal said: "There was a little part of me that was concerned they weren't interested in telling the same story as I was interested in telling.
One topic the actress insisted on being shown on the show was her character masturbating or having sex away from her work.
She told Britain's ELLE magazine: "I thought that would be, in some ways, an opening into her needs, her desire, her agency.
"I didn't hear anything about it for a long time. David Simon sort of joked with me, like, 'What? Really?' but he delivered a script with a storyline about Candy's own love life, and even includes her masturbating and having an orgasm that's both vulnerable and profound.
"It shouldn't, but somehow it seems radical to watch a woman whose job is a sex worker focusing on her own pleasure."
Source: Brampton Guardian