What Does Larkin Love Do to Celebrate Two Wins…She Goes on the CannaPornia Show!
Larkin Love can now add award-winning to her long list of titles that include Indie Porn Star, Role-play expert, and kinky Cosplay Queen. In  just one week she has won XBIZ Cam Awards' Best Female Clip Artist and Altporn Awards for Best Clip Artist of the Year–and these are her very first awards of her career.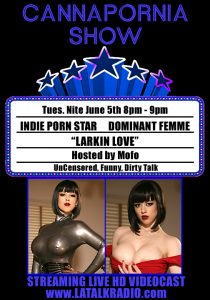 So tomorrow night she's appearing on  L.A. Talk Radio's CannaPornia Show at 8pm PST/11pm EST. She will join host Mofo and talk about her wins and what's in the future for her.
"I'm excited to see Mofo again and appear on his show—it's been a long time since I've seen him," says Larkin Love. "I like that his show is funny and irreverent and has a quirky mix of topics that include porn stars, cannabis, and MMA. I'm sure we will have a lot to talk about!"
Listeners can watch the streaming videocast on LA Talk Radio at http://latalkradio.com and live on Mofo's Facebook page at https://www.facebook.com/MofoWear. The call-in number is 818.570.5085. Rebroadcasts of the show can be viewed on the CannaPornia YouTube Channel at
https://www.youtube.com/channel/UCNLDAX57jIpbjOCHWcBa04Q