Porn Star Christiana Cinn propositioned by pizza delivery man; Domino's offered DESSERT when she reported sexual harassment
Porn star, Penthouse covergirl and feature entertainer Christiana Cinn says that a Domino's delivery driver tried to get her to recreate one of the most cliched tropes in porn: the old "pizza delivery leads to sex" routine.
But this time, there was a twist.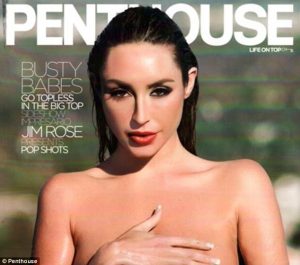 Cinn was staying at a Hyatt hotel in Milwaukee, Wisconsin on February 24 for an appearance at a local strip club.
The adult star ordered a pie for delivery from Domino's — Large thin crust, with light cheese, banana peppers, mushrooms, spinach, light hot sauce, pineapple and robust tomato sauce.
[Pineapple does not belong on a pizza. — ed.]
Some time after the pizza was dropped off, Cinn claims, the Domino's employee took information from her order to message her via text.
He had a proposition with extra cheese: $200, apparently to sleep with him.
"Was offering you 200 but nvm u must be one of those bad and Bouji tf??."
(For readers not fluent in the lingo of America's urban youth, here is a definition of "Bouji").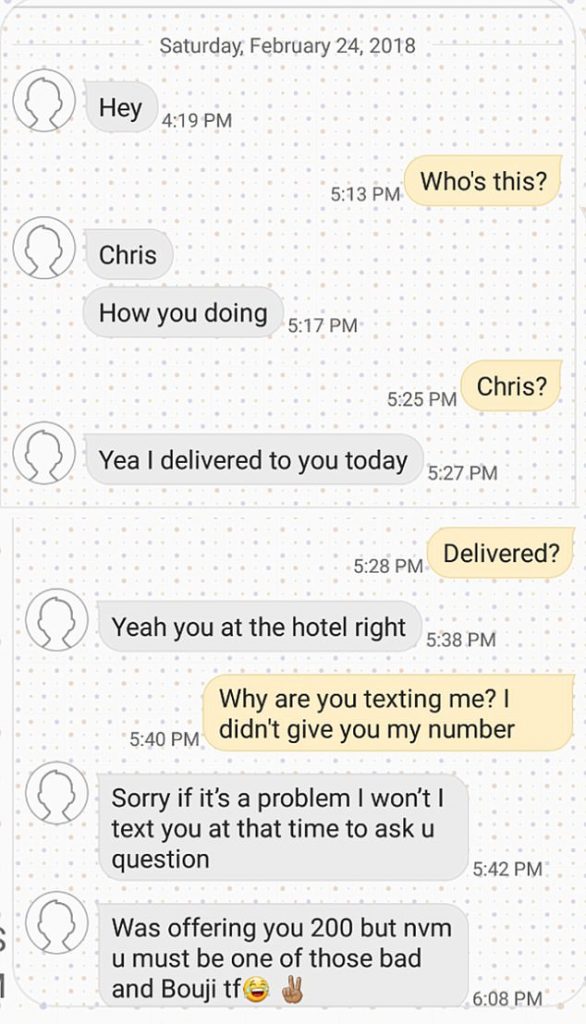 CINNamon Twist
Cinn was shocked and insulted. As she recounted to The Daily Mail
"It was such an invasion of privacy… this guy had all my information, he could give it to anybody,' she said. 'I didn't feel safe, I had considered switching rooms.'

Upon explaining what happened, she claims she heard the person on the other end tell someone 'Girl, you better check your man.'

She then came back on the phone to offer a dessert as compensation.

'I was absolutely livid… are you serious?' she said. 'A cinnamon Twist?'
A propitiatory dessert item!
After asking for the district manager's details, he then came back with an even better offer: a cheque for $22 to cover the cost of the pizza.

'I can't believe they thought they could make this go away with a free pizza,' Cinn said.
And after she posted about the incident on social media, she received a phone call from a blocked number, but the caller wasn't apologizing.
"He was super rude, accusatory and threatening," says Cinn. "He said 'If you don't want to take my offer of $22, I don't know what to tell you.'"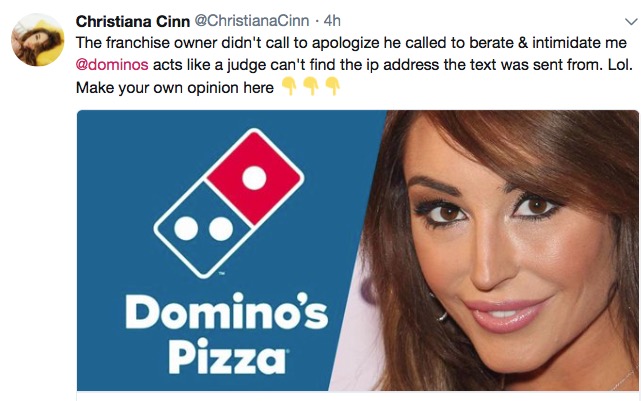 Dominos told The Blast,
"We were made aware of this a few weeks ago and discovered that it involved a store owned by a franchisee. The franchisee did do an investigation of the matter and determined that the phone number she provided us did not belong to the driver who took the delivery, did not belong to any of the other drivers and did not belong to anyone at the store."

They also said the franchisee owner "Personally reached out to the customer, explained that he could not find any evidence that the text received came from anyone at this store."'

However, the porn star thinks Dominos is cooking up a flimsy excuse, and says they can shove it right in their pie-hole … she got an attorney and is considering legal action.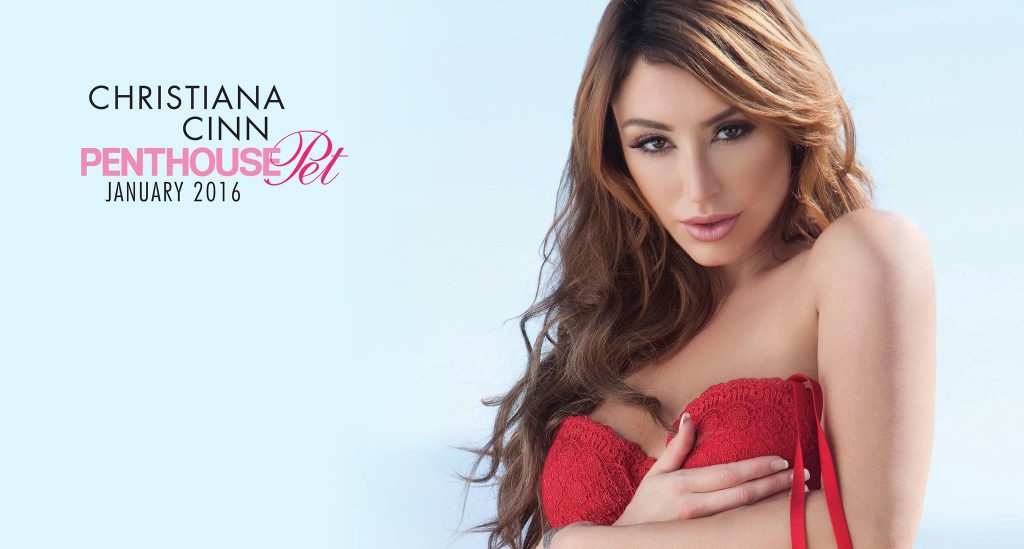 I never felt more satisfied or optimistic than when I rode the river in my youth.