Porn matters to mainstream more than they care to admit
Last August Twitter announced that Periscope had an amazing 10 million users, but those numbers were quickly overshadowed when another app launched called Musical.ly. Within 3 months, it had already surpassed Periscope in popularity.
The question is, why? Because Snapchat, another app similar to Periscope, has hit the big time.
Today it generated the largest initial public offering in Southern California history, raising at least $3.4 billion while valuing the company at $23.8 billion.
What makes Snapchat so special? Why did it do so much better than Periscope? Especially considering they really aren't all that different. In fact, I think Periscope is far, far easier to use than Snapchat. But obviously, that didn't matter because in the end, Snapchat reigns supreme.
The answer to me or anyone who spends 5 minutes on twitter, seeing what porn stars are saying, is obvious why Snapchat is so successful …. MONEY.
Snapchat is already making money. Okay not big amounts but advertisers are happy and that means they'll continue to spend money with the company. Even twitter struggles to say that.
"Advertisers are optimistic about the potential of Snapchat, which has 158 million daily users, most of them in their teens or early adulthood. There's "encouraging early activity, and the demographic Snapchat serves is a high priority for advertisers."
Snapchat is popular with millennials, which are those 18 to 34 in age. These are also the same age as a lot of porn stars, and their fans. Porn stars have learned that Snapchat can be a HUGE source of income for them.
Performers like Darcie Dolce who was Penthouse Pet of the Month for February 2016 are using services like GetMySnap.com to make big bucks by selling access to their "premium" snapchat channel. See: darciedolce.getmysnap.com.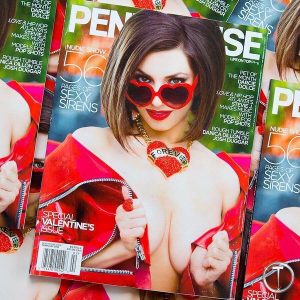 Rumor is, some porn stars are seeing a significantly higher profit margins with their Snapchat than they are with the traditional membership websites or making movies, which is what made them stars in the first place.
So, while Periscope punishes nudity, Snapchat seems to have embraced it, even if unintentionally.
In 2014 CNN called it "Snapchat's Porn Problem", but it didn't turn out to be such a problem for the company today as it raised $3.4 billion with their IPO.
On Feb, 23, 2017 CBN News ran a story about Snapchat, calling them the 2017 "Dirty Dozen", trying to shame them for making money from porn. The "Dirty Dozen" list names top companies and institutions "that perpetuate sexual exploitation".
This same company also called out Amazon's Kindle "is riddled with sexually explicit content containing incest, babysitter and group-sex themes."
Snapchat doesn't seem to mind, as they are laughing all the way to the bank.
I'm here to give you the 411 about porn stars and in the adult industry as a whole.