Nikki Delano Goes International & Set to Feature in Italy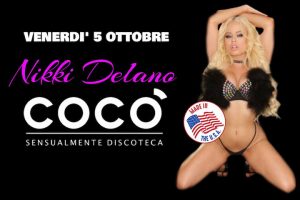 Award-winning Spicy Latina adult superstar and Vivid Radio Show host Nikki Delano is set to feature dance in Italy for the next two weekends. This will be her first time headlining in Italy, and she's set to appear at some of the hottest gentlemen's clubs.
On Friday, October 5th, she will be headlining at Coco Club in Venice. Since 2010, Coco Club has helped male patrons have many sensual evenings. The Coco Club is located at Via Ca' Zorzi, 2, 30173 Venezia VE, Italy. For more information, check out their website https://www.sensualmentecoco.club/ or call +39 335 656 8008.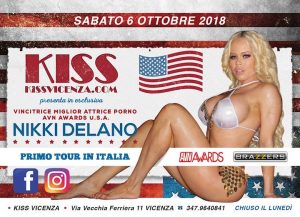 Saturday night, she will be featuring at Kiss & Kiss in Vicenza. The club is known for their three smoking rooms where patrons can indulge in many different cocktails and wines in a refined and private environment. Kiss & Kiss is located at Via Vecchia Ferriera, 11, 36100 Vicenza VI, Italy. Find out more on their website https://www.kissvicenza.com/it/ or call +39 347 964 0841.
Nikki will have multiple stage shows nightly and fans and club patrons can meet the adult superstar during multiple meet and greets. Take a selfie with the Superstar and/or buy her exclusive merchandise. Go for the ultimate Nikki Delano experience and purchase a VIP Lap Dance.
"Going to Italy to feature dance is a dream come true and I'm beyond excited," says Nikki Delano. "I can't wait to meet my Italian fans. I've got some great shows and lots of surprises planned. If you're a fan and in the area, make sure to come to my features and get there early for the best seats in the house."
Next weekend, catch Nikki at Miami Club in Torino, Italy on Friday, October 12th and Wasabi in Cuneo, Italy on Saturday, September 13th.