Megan Rain has a baby boy!
I decided that instead of commenting (for now) on a post from another author on this site that I don't agree with, I am going to post some happy news and that is Megan Rain has now officially announced that last week she gave birth to a baby boy.
This is what she had to say …
I've been getting a lot of questions from some of you wondering why I've been distant from the industry these last couple months. A lot of you have also guessed I'm pregnant…& you'd be right! I'm proud to announce I just gave birth to a healthy beautiful baby boy 1 week ago today. I've decided to keep this journey private & out of the spot light except to those who are closest to me. Don't worry, I won't be blowing your time line up with baby pictures, I'm still choosing to keep my son off of this social media with such a strong following. I love you all & all the support you've given me these last 3 years in the adult industry. You all mean the world to me. XOXO (I shouldn't even have to say this but please keep negative comments to yourself…don't mess with mama bear)
Although Megan Rain has long said she loves her career and appreciates her fans, she really wanted to keep this part of her life private (not unlike Kylie Jenner recently did) and kept her pregnancy out of the spotlight.
While obviously, we were fully aware of how she was doing, we chose out of respect for her and this special time in her life, to respect her personal wishes and not report on her condition until she was ready to come forward first.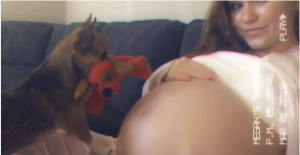 We are happy to say that both the mother and baby are now doing well.
Hello, my name is Kelli Roberts. I am a published author, AVN nominated producer, and webmaster who has worked in the adult industry since August of 1996.