Let's talk frankly about STIs
More than 3 million people a year are infected with chlamydia each year and it's the most common STI for people under 25.
In porn, people love to spread the false rumor that we get STIs far less often than our civilian counterparts. The sad truth is, that isn't the case. It's just because we get tested every 14 to 30 days, we know our status and as such, can get it taken care of.
Testing is not a method of prevention. Testing can't stop you from getting or passing on an STI, it can only tell you that you have one in the first place.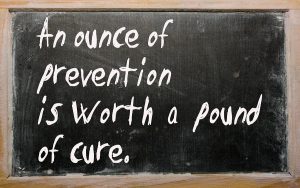 But what about the person who gave you that STI? Shouldn't you notify the people you've had sex with recently to let them know you popped positive?
Did you know that through the current testing system, if a performer tests positive for a STI they are sent to a doctor over the phone to get a prescription to cure them of said infection, without ever even having seen the actual doctor to confirm the test wasn't a false positive, nor do they request a sexual history to notify your past partners so that if they too are infected, they can also get tested.
You didn't get that STI on your own. You had to get it from someone. So why would the current testing system not want to contact your past sexual partners like they do at the health clinic, to try and stop the transmission before the person who gave it to you, doesn't give it to someone else?
If you are unlucky enough to catch an STI, you would do the right thing and tell your past sexual partners.
If you don't want to do it directly, you can do so anonymously through the STD Check website. Just enter their phone # or email and then click send. They will notify your partner that they need to get tested as soon as possible.
Why does the current testing system not offer this service?
Why does our current system of testing not require you to notify your past sexual partners?
Why does our current system charge you $50 to speak with a doctor over the phone and not see them in person?
A female performer I know last month tested positive for chlamydia. The odd thing was, she hadn't been with anyone in months. Instead of going through the telephone visit with the doctor, as the testing center suggested, she went to a normal doctor that only charged her $40 for the visit and unlike the phone consultation she got an actual exam.
Turns out she didn't have chlamydia at all. Her test was a false positive.
But what if she really did have chlamydia? The fact that nobody even suggested she notify her past sexual partners bothers me beyond words. How can we work to prevent STIs if we aren't even telling someone they just had sex with someone who has them?