Larkin Love Is Going to Make You Hot & Wet with Her ManyVids Summer Sale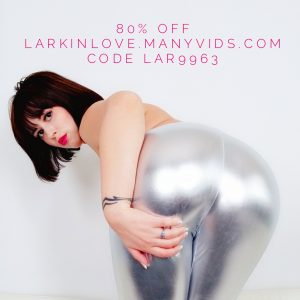 Award-winning Indie Porn Star, Role-play expert, and kinky Cosplay Queen Larkin Love is going to make you sweat with her Hot Wet Summer Sale.
The Hot Wet Summer Sale is on NOW through July 1st. Head over to Larkin Love's ManyVids page at http://LarkinLove.ManyVids.com. All videos and store items are 80% off. Customs, memberships, phone, text, video chat, and MV Crush are 20% off. To get these stellar discounts use the code Lar9963 to stock up on everything Larkin.
Collectors looking to pick up one-of-a-kind worn items can score right now and she's added many new items to her store. Leggings, bra and panty sets, stockings, pantyhose, panties, blouses and teddies that she's worn in her famous clips is under $10. You can also tack on a Polaroidof her wearing the item and/or personalized notes for an additional price.
This is also the lowest price EVER Larkin has offered her Lifetime Snapchat. Fans can get access for just $20 using the code Lar9963.
"I'm celebrating summer and my fans are the ones who win," says Larkin Love. "Now is the time to stop up! If you've been waiting for deals, they're here and only until July 1st. You can't beat Lifetime Snapchat for $20. The price will never be this low again. So, enjoy the summer and me!"