It's Everyone's Favorite Time of the Year…Lark-O-Ween!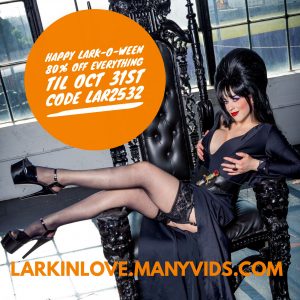 Award-winning Indie Porn Star, Role-play expert, and kinky Cosplay Queen Larkin Love is ready to celebrate the sexiest time of the year…Lark-O-Ween!
Lark-O-Ween is on now through midnight on October 31st and will be celebrated in many ways. Larkin's fans can take 80% off on all videos and store items on her ManyVids http://larkinlove.manyvids.com with the code Lar2532. They can also take 20% off MV Crush.
New videos and photo sets will be released on Larkin's ManyVids all month long with cosplay, supernatural, horror, and goth themes. Check her ManyVids page often to see all the new treats.
Larkin will also be camming through the month of October in Halloween-themed outfits on MV Live. Check her Twitter feed for upcoming days and times for shows. On October 31st, Larkin is doing an Elvira Cosplay Cam Show, and it's also her birthday. To celebrate, there will be a blowout of games, gifts, prizes, specials, discounts, and much more!
The next big event that's part of Lark-O-Ween is the 4th Infamous Fan Raffle that starts on October 15th. Tickets will be available at http://larkinloveraffle.com and prizes will include a fabulous, super intimate, as close as it gets experience with their Big Tiddy Goth Girlfriend. Once the raffle page for details when it starts.
"I love Halloween and the fact that it happens on my birthday makes it even more amazing," says Larkin Love. "This year I'm doing it up in style with a ManyVids sale, releasing spooky new content, doing an Elvira cosplay show, and doing my Infamous Fan Raffle. I can't think of a better way to celebrate than giving my fans what they crave…more of me!"