Her Body, Her Choice – Unless It's a Black Guy Apparently
Girls in the adult industry have always celebrated the fact that they have the freedom to do what they want with their body. As the saying goes "HER BODY – HER CHOICE".
That is however unless her choice is not to have sex with a black guy or a transsexual.
You may recall a few years ago when several females were viciously attacked and threatened by Christian XXX when they placed him on their no list. The rule of thumb in the adult industry is that performers have the right to put anyone on their no list for any reason they want. They don't have to explain why – no means no.
By allowing anyone to try and shame the women of our industry or bully them into something, undermines the entire system and obviously, it puts performers who did nothing wrong, in harm's way.
But what if the person the girl puts on her no list was a black guy or all black guys?
Is it still her choice?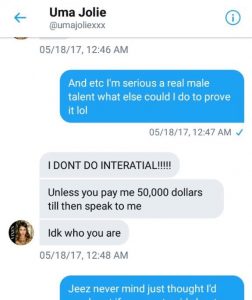 Or does it only get to be her body, her choice in certain circumstances – If those circumstances don't offend our own personal viewpoints?
I'm here to give you the 411 about porn stars and in the adult industry as a whole.