Gia Paige: self-inflicted wounds and forsaken boundaries
So, what's wrong with a parent managing a child's career in sex work?
Men heap together the mistakes of their lives, and create a monster they call Destiny.
~ John Oliver Hobbes (1867-1906)
Self-inflicted misery smirks under its crown of thorns.
~ Mason Cooley (1927-2002)
"Voice of Reason" here. This post began life as a guest submission from a 20-year plus veteran of the adult business. In consultation with the author, I edited and polished portions and added screenshot illustrations and links. Even though the resulting post contains some of my words, it's not my work and thus it is being published under the site's generic "PornReporter" account.
Long before I came to work in the adult industry, I got to know a fair number of people involved in sex work, and adult movies in particular. Among my earliest acquaintances in porn, back in the late 1980s and early 90s, were a pair of ill-fated young women: Shannon Wilsey (Savannah) and Michelle Schei (Megan Leigh).
Savannah's story is better known, and came to eclipse Megan's.  Of Savannah I can tell you that she had a lot of demons, and she was an immature emotional wreck who, ultimately, made self-destructive life choices.
But today I'm thinking of Megan Leigh, and the ways in which abuse reverberates across generations.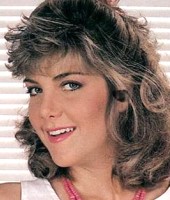 Megan/Michelle was a sweet, sweet girl. She wanted to be loved and accepted. Growing up in California not far from my old stomping grounds, she'd had a shitty home life, and she ran away. Think: Dirk Diggler. By her mid-teens she was toiling in a massage parlor in Guam.
She returned to the mainland and got into porn in 1987. She was soon a star. We two were about the same age, and I met her by chance about a year-and-a-half later.
She was tall and she lit up a room when she entered it. That said, one of the things I remember most clearly about her was her sadness. She was the first person I'd ever met who was on prescription meds. The source of her sadness was obvious to anyone who ever knew her. She desperately wanted her mom to love her.
She craved her mother's love so much, that she made her mom her manager. From what Michelle told me, every cent she made, other than tips from live appearances, was paid to her mom. She used to have to call her mom and ask for money to pay her agency fees to Jim South's World Modeling. I heard some of the phone calls.
She was successful and she was liked and she made good money, but it never brought her happiness. Not long after buying her mother a $500,000 'dream house', Michelle swallowed a bunch of Valium then put a gun in her mouth. She was 26. That was June 16, 1990, and I could tell you exactly where I was when I heard the news.
Family is everything
So, now I'm pondering the following tweets: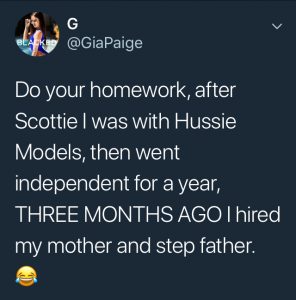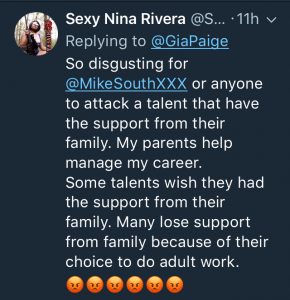 Adult starlet Gia Paige "hired" her mother and stepfather to run her porn career.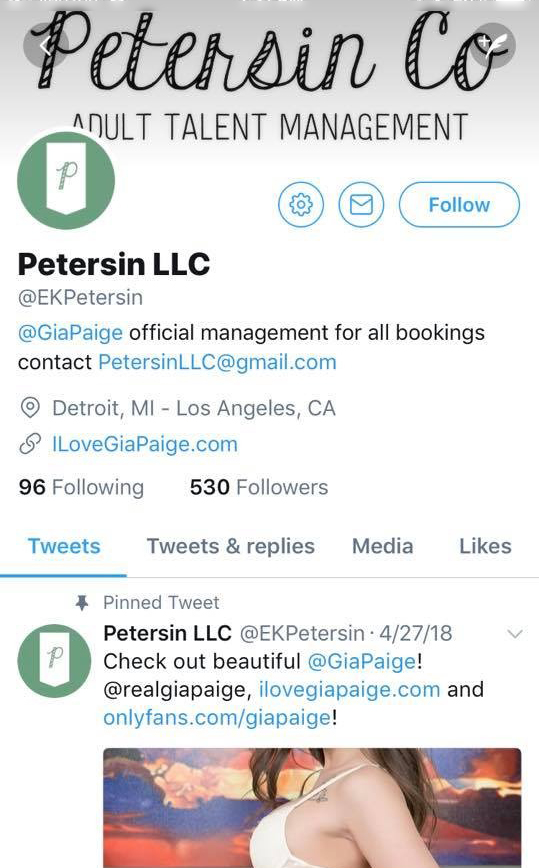 Let's set that aside for a moment and focus on the reply tweet from Nina Rivera.
This is where relativism and notions of politically correct "inclusive" tolerance have brought us: where we can no longer recognize proper boundaries in relationships, or call out destructive behavior without being labelled bigots. Where a complete lack of parental boundaries is lumped in with being "supportive".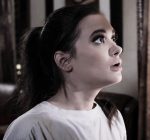 Ask yourself, is there a reason Gia Paige couldn't set up her own LLC to handle her business dealings? She's 28 years old, and she's not dumb. Is she THAT busy, and are her family members the only people she can trust to do her bookings? Maybe so. But it's also been reported, though not confirmed, that her little brother helps with her social media. Gatekeeping Gia Paige's orifices is the family business.
Of course parents should, ideally, be supportive of their child's business or career. Of course sex work is work. But it's also sex. And I'm sorry, it's just plain creepy for a parent to book their child's porn scenes or, ahem, other sex work activities. (While Paige now states that she's "never escorted" because she "never had to", let's just say the truth is more complicated.)
As for her family's involvement in her sex work, we've all seen situations like this several times over the years and in my experience it's never reflected a healthy, balanced relationship, and that's putting it kindly.
Case in point:
Back in 2007, Desi Foxx (aka Diana Grandmason / Diana Garren) stage-managed her 19-year old daughter Elli Foxx's entry into the adult business. Known around porn valley as "Elli's Pimp", 48-year-old Desi joined her daughter as an adult performer less than a year later. Their specialty: scenes in which they both banged the same guy at the same time in titles such as Wanna Fuck My Daughter Gotta Fuck Me First 2 and Mother-Daughter Exchange Club 4.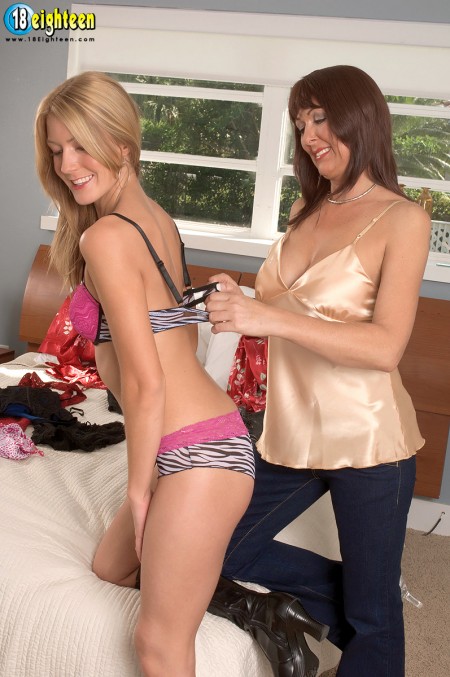 When the novelty of a mother-daughter act became worn and played out, Desi soured on porn and went searching for greener pastures. In early 2009, she and her daughter landed at Dennis Hof's Moonlite Bunny Ranch brothel in Nevada.
Was there ever a mom more "supportive" of her daughter's career in sex work than Desi Foxx? Well, maybe Megan Leigh's 'dream home'-owning mom was….
As for Desi Foxx, she now passes herself off as a children's advocate. At the same time, her son, Elli's brother James Kirkland, is now a convicted sex offender who, according to the State of Florida, had sex with an underage girl between the ages of 12 and 15.
And Desi's ex husband (Kirklin's step-father) Homer Lee Garren, Jr. was convicted of Criminal Sexual Conduct with a person under the age of 13. (Homer has since been released from prison, and is a registered sex offender.)
Is it possible for a family arrangement such as Gia Paige's to work out? Well, anything is possible. But look at the whole picture. This is someone who has bounced around between two of the scummiest "agencies" in existence: Ohanian's Platinum Models and Riley Reynolds' Hussie Models. I don't think this happens by accident. There is a phenomenon at work here; some call it "swimming to the bottom".
#HerToo
Readers of MikeSouth.com will be familiar with the recent scandals surrounding the sensational (and I'd say, outrageous) claims made by performers Leigh Raven and Moe the Monster Johnson. Gia Paige surely is, and she unhesitatingly co-signed the claims of abuse made by both.
Here she is, in "advocate for the oppressed" mode retweeting the latter: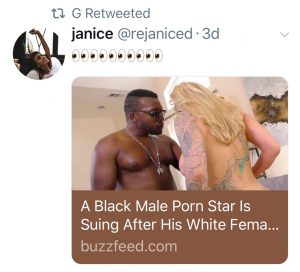 Just as Leigh Raven did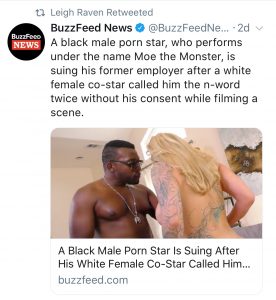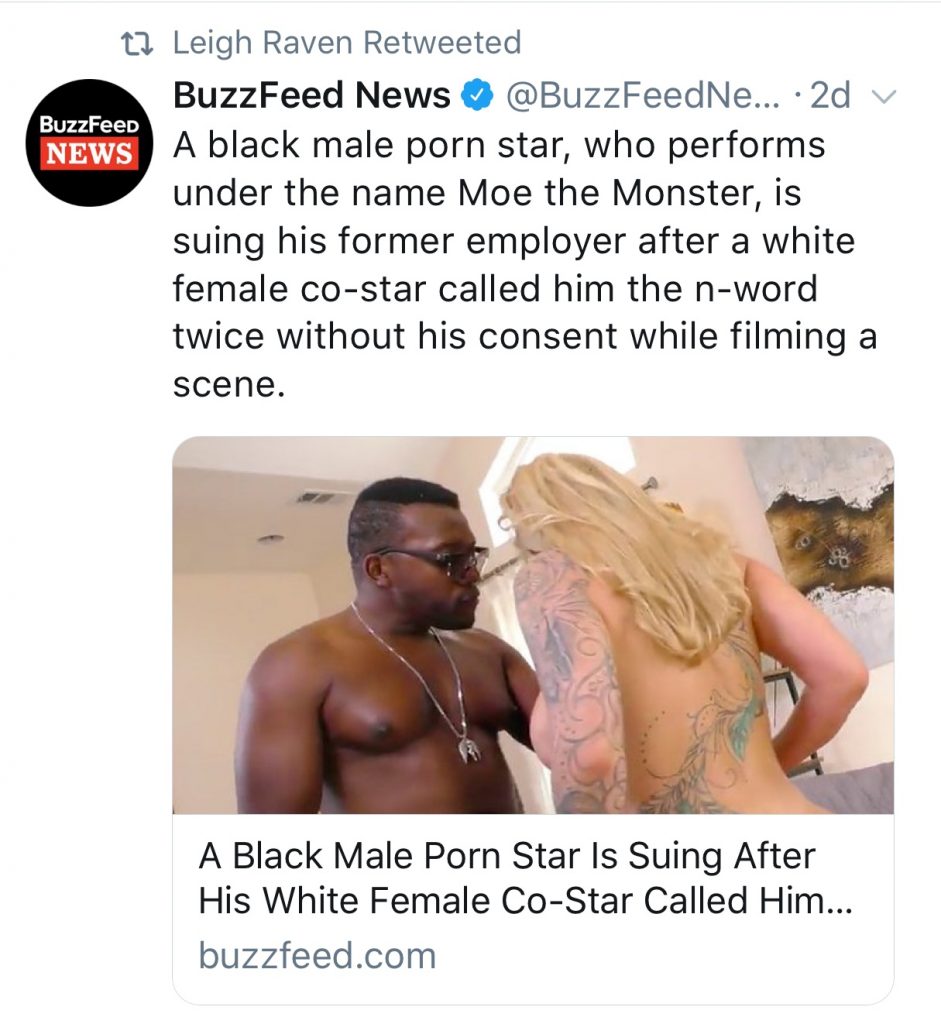 I don't think Gia Paige has ever met a claim of abuse she didn't like, and reflexively co-sign. I infer a strategy and a motive.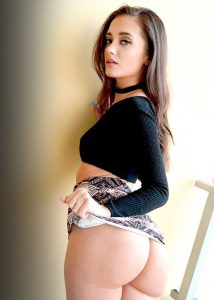 When an attractive, employable performer keeps ending up in less-than-stellar business settings, and is also compelled to involve herself in others' online drama, these are self-inflicted wounds. That is not to say that Gia Paige in any way deserved any of the bad things she says happened to her, only that, taken as a whole, people end up where they are for a reason.
And within the adult business, attempts to rewrite history for public (fan and media) consumption just don't fly — even with this business' notoriously short memory.
Elli's former co-star and pimp will never be a respected child advocate.
Gia Paige started out in porn working with a bona fide criminal, Scottie Ohanian. She was then 24, not exactly a kid.
She now denies having been his girlfriend and, interestingly, also posted this on Twitter: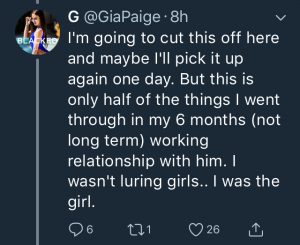 Gia says she was Scottie's victim.
She sounds a bit defensive to me, but what I'm focusing on is one particular portion of her denial: that she wasn't "luring girls" for Scottie. The funny thing is, I don't think anyone has made that charge recently (if I'm wrong on that, please do correct me), and if not, why bring it up?
There's a well-documented 'quirk' to be found in the demurrers and objections of guilty people: they often deny things in advance of being asked, or proclaim their 'goodness' and 'honesty' unbidden.
But since the question has been raised of whether Gia Paige did or did not lure women to Scottie Ohanian's unlicensed agency and rape den, let's look at the evidence.
Queen Bee
Everyone has seen the puppy who starts humping everything to find its place in the pack; to find out who to align with. A singular portrait emerges when you speak to anyone who has had dealings with Gia Paige: she always knows whose bed to sleep in. It's a smart career strategy, however it does not correspond with her claims of victimhood.
Was she Scottie's girlfriend? People who knew them both at the time agree that, at a minimum, they hooked up plenty of times. Gia may have had no feelings toward him, but it seems clear that he was in love with her. He was her life line at that stage of her career, and, sources say, she exploited that situation. She manipulated circumstances to her advantage.
Paige began her association with Scottie Ohanian in the fall of 2014. By all accounts she quickly became his Queen Bee, or Bottom Bitch, helping him run his operation, and at least coaxing young women on his roster toward their bookings, if not recruiting them in the first place.
Cunningly, she had Scottie listed in her phone's contacts as "Skylar", so other performers within visual range of her phone would't know on what intimate terms she was with hum, and so she could pretend to be taking a call from a woman when discussing business.
Below is the manufactured version of events Gia now claims to be true.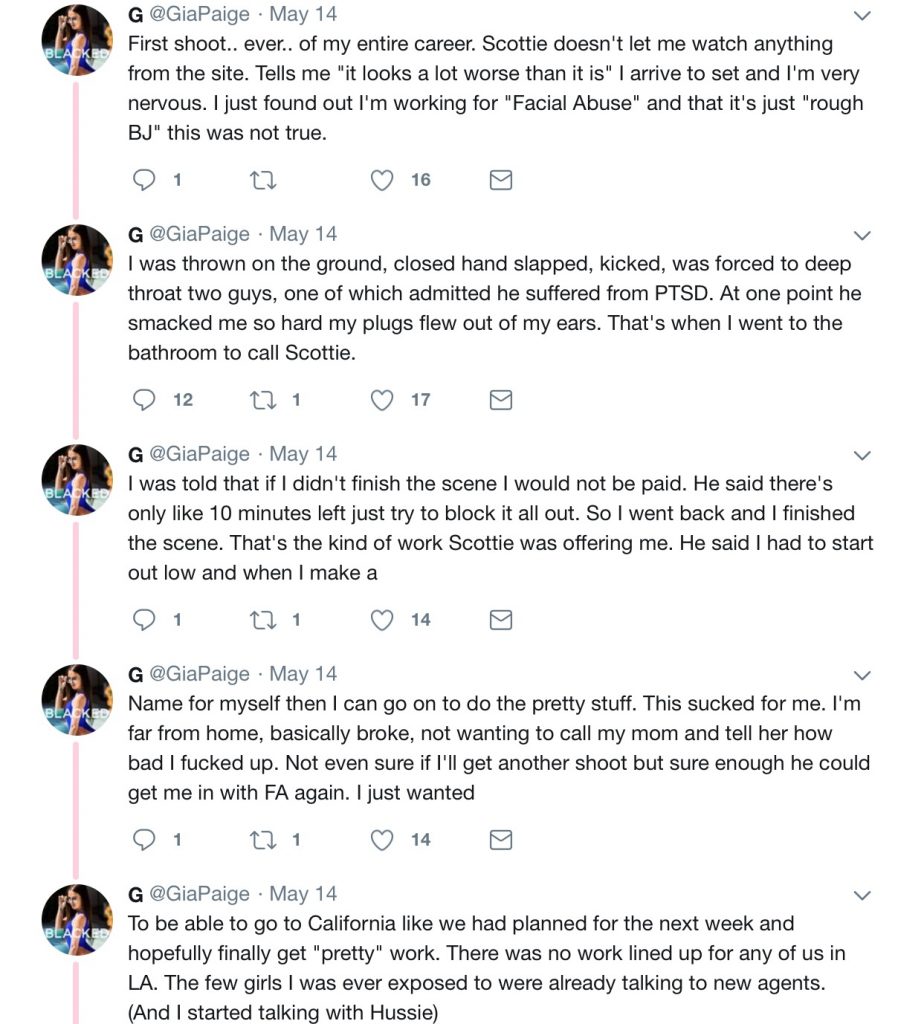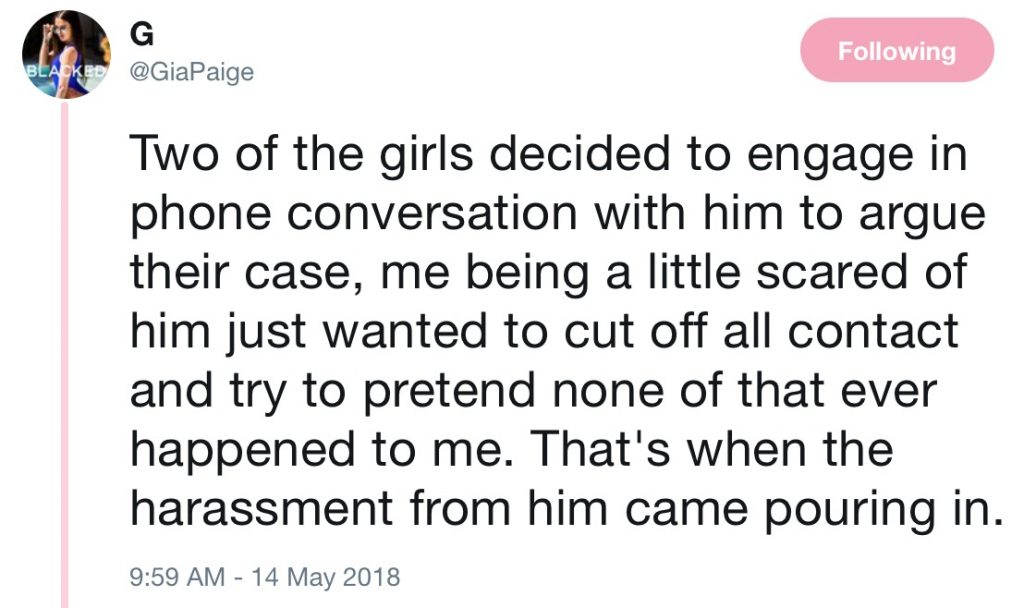 Again, Paige is the victim. She was "scared of him". She wanted to forget their association. I'm not saying Scottie isn't a piece of garbage; I'm saying she knew exactly what he was while she was working with him as his Bottom Bitch.
"The few girls I was exposed to" line is utterly ridiculous. Paige was directly involved in making sure they went through with their shoots so that Scottie could collect his fee.
What Gia also neglects to mention is that she did in fact shoot for Facial Abuse again; in February 2015, months after her first scene. In the tweets above, she intentionally conflates the events of the two shoots. According to one adult industry journalist, she was also supportive of FA until it became politically expedient for her to assail them.
And, for what it's worth, Scottie was correct: she did get "pretty" work.
Also lost in her victimhood narrative is the fact that when she and two of the other most promising models signed to Scottie went to Los Angeles in 2015, a continent away from Ohanians' reach, it was she who masterminded their jump to Riley Reynolds' Hussie Models. She had orchestrated the circumstances under which the trio would jump ship. Funny how these women who were "already talking to new agents" ended up following Paige to Hussie, the agency run by the next man she'd soon be dating, Riley Reynolds.
It would appear that Gia Paige has had more ugly dudes inside her than Comic-Con.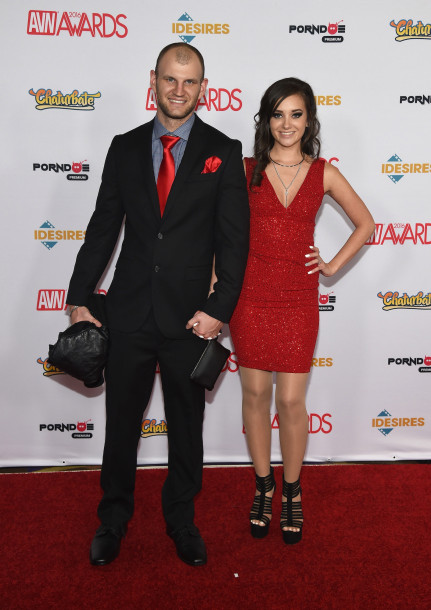 Performers and adult producers to whom I've spoken also allege she lured other young models to Reynolds' agency.
Let's examine her statements to The Daily Dot, after she claimed to have been outed by the porn-loathing Netflix show "Hot Girls Wanted". (Incidentally, the show only revealed her first and middle legal names, which is NOT enough, in and of itself, for someone other than a government intelligence operative to track you or your family down. It's not how background searches work; you need a last name to work with. The producers of "Hot Girls Wanted" are despicable, but Paige expertly played the victim card and trumped up the allegation of having been "outed" by the show for media attention and sympathy.)
When the original documentary aired, Paige says, she had "started getting serious with Riley [Reynolds, Paige's ex-fiance and former agent who was in the documentary]. Other girls in the agency were telling me how embarrassing it was, so I didn't want to see it. I didn't want it to change how I felt about Riley."

So when producers asked Reynolds to get Paige involved in shooting the follow-up series, she was naturally apprehensive. "I refused for several months," she explains, but her then-boyfriend's insistence led her to set up a meeting with Bauer to discuss personal boundaries.

"I told her how much I didn't want to be there, that I didn't want a lifestyle like him… being noticed everywhere he went." Hot Girls Wanted had made Reynolds a publicly-known face, and Paige expressed to Bauer "how much anxiety I had about keeping my personal life and my family out of whatever we filmed. She assured me she wouldn't cross any boundaries." [ ]
By the time she spoke to The Daily Dot, Paige had also moved past Riley, and it was time to throw him under the bus too:
Asked if there were red flags during shooting, Paige describes having her concerns brushed off by Riley and the production team. "Pretty quickly after we started filming, they began asking about my parents and I kindly reminded them I didn't want to talk about it, but they kept urging." After repeated incidents where Paige interrupted filming to reiterate her boundaries to the film crew, she ultimately asked Reynolds to have her taken out of the project. "He said he had it taken care of, [and] as my agent I trusted that."
I don't think it takes too much to read between the lines here. Like Scottie, Riley was useful for a time. Both associations led to Paige meeting people who could further her career. And when these men were no longer useful, they were dumped and castigated, and Paige proclaimed herself a victim. As the song goes, somebody made a bet, somebody paid. Precisely where her parents may fit into these machinations, I dare not speculate.
And now, Paige has jumped into a publicized online fight targeting another talent agent being promoted by disingenuous porn-hater Aurora Snow.
Borrowing a page from Leigh Raven, the false rape accuser whom Paige publicly supports, she apparently believes that by lashing out at an agent with a long list of enemies, Derek Hay (nowhere near as soft a target as Scottie and Riley), she will gather new support. However, from this vantage point, I find little reason to believe this choice by Paige and her comrades-in-arms will, or should, result in anything better than the disgrace that has befallen porn pariahs Raven and her svengali, Nikki Hearts.
Like Raven and Hearts, Gia Paige is marginalizing herself. Given her present perch, to which she ascended partly on the backs of young women chewed up and spit out by the likes of Ohanian and Reynolds, Paige's descent will be farther and steeper.
Two-fisted reporter. That's not my microphone, I'm just happy to see you.