Gemma Massey @ladygemmamassey says IT'S A GIRL!
Former UK porn sensation Gemma Massey officially retired from performing when Bluebird Films went bankrupt and went out of business in 2012.
Gemma Massey opened up a "Beauty Bar" in the UK and has done quite well at it. She was expected to be on Celebrity Big Brother UK this year but for some reason, it didn't happen. Turns out the reason was she was pregnant and about 5 days ago announced via Instagram that she had a baby girl.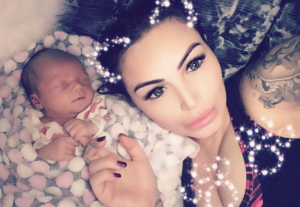 We hope that Gemma Massey and her baby have a happy and most wonderful new year!
You can follow her on twitter @ladygemmamassey.
Hello, my name is Kelli Roberts. I am a published author, AVN nominated producer, and webmaster who has worked in the adult industry since August of 1996.