Dahlia Sky Returns to Porn
Dahlia Sky recently tweeted out a message to her fans letting them know she's making a return to performing at once and will be tested and ready to do her first scene by Friday.
Why did she leave in the first place? Sounds like she had a suitcase pimp situation going on and he was trying to dictate how she made her money and lived her life.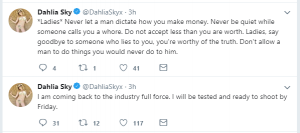 I'm here to give you the 411 about porn stars and in the adult industry as a whole.