Celebrate 420 with Jynx Maze in Staten Island, New York
Adult Superstar Jynx Maze, will be heading to Staten Island, NY to host Nitecap Megastore's third annual, "Almost Legal 420 Festival," on Friday, April 20 from 4pm to 10pm, where she will be available for autographs, photographs and will be enjoying the party of pot lovers all over the tristate area.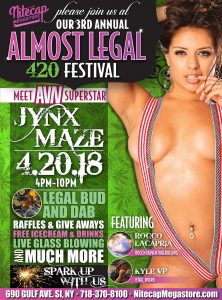 "I'm so excited to be a part of this wonderful festival! As my fans know, I'm 420 friendly, out and proud and will be enjoying all the amazing products that Nitecap has to offer," says Jynx. "I hope all of my fans will come out and join me for this unique holiday."
The festivities will also include, raffles, giveaways, free ice cream, free drinks, live glass blowing and appearances by local marijuana experts and personalities Rocco LaCapria and Kyle VP.
Nightcap has all kinds of clothing and jewelry for both men and women, in addition to a full section dedicated to lingerie and is located at 690 Gulf Ave., Staten Island, NY and you may call them directly at 718.370.8100. You may follow Nitecap Megastore on their website nitecapmegastore.com.
Fans may follow Jynx Maze on Instagram at Instragram.com/JynxieMazie and on Twitter at twitter.com/jynxmazecutie.
Hello, my name is Kelli Roberts. I am a published author, AVN nominated producer, and webmaster who has worked in the adult industry since August of 1996.