What is wrong with people? Yes I mean you Lauren Phillips!
During what has now been classified as the worst mass shooting in America, porn star Lauren Phillips decided it would be a good idea to not only tweet but pin the tweet which used the Las Vegas massacre shooting hashtags —
#stopthehate by masturbating to ur fav #ginger on Karsup.com. It's all about #shooting loads in my pussy #laurenphillips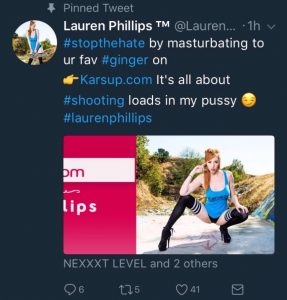 Even worse her agency LIKES IT as if they somehow approve this sick shit?
WHAT IS WRONG WITH YOU PEOPLE?
58 people died, hundreds more were injured. It's not a time to self-promote you sick fucks.
Although the tweet has since been deleted, it doesn't mean others have captured it and I'm glad they did. I want people to see what kind of sick person Lauren Phillips is.
I want people to see what kind of agency Nexxxt Level Talent is.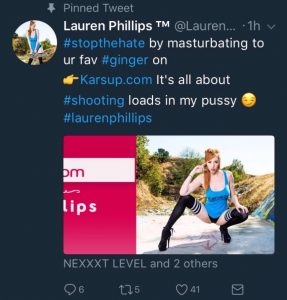 What kind of person would actually tweet this during the Las Vegas massacre?
I'm just disgusted.
I can't even put into words how much Lauren Phillips just is the worst kind of person.