More Anastasia Rose Idiocy — This is a MUST READ!
You may recall two days ago I wrote an article calling out Anastasia Rose for playing the victim card in the Leigh Raven / Riley Nixon sexual assault case.

We later revealed private messages between her and the producer where she was, in fact, told the shoot was for Facial Abuse.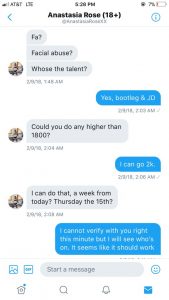 Now notice in her original tweet she claims, "Didn't realize it would be for @facialabuse if I knew that I wouldn't have shot the scene".
Funny she says that when she previously had this to say about them …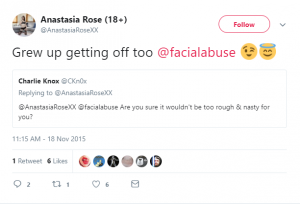 That of course completely contradicts what she told us directly — she stated that Facial Abuse has been trying to hire her since she first entered the industry. She told them she'd shoot for them multiple times but would always flake on the shoots because she thought it was funny.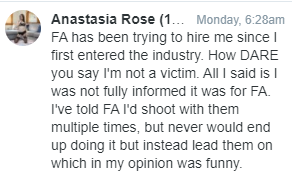 Because apparently, that's just how she rolls. She brags about flaking on a shoot. Something I'm sure many other producers will be happy to know.
I looked into it and she is represented by Coxxx Models. Which interestingly enough is the subject matter of an ongoing fraud investigation.
More on that later.
I'm here to give you the 411 about porn stars and in the adult industry as a whole.