Kandie Monaee Breaks Things Off with Hussie Models and Riley Reynolds
Kandie Monaee pictured below at the AVN awards took to Twitter to let everyone know that her "agent" offered her a deal to get out of her contract, she can either pay him $2,000 or fuck one of his buddies and "call it even".
Riley Reynolds actually offered to send a girl to fuck a guy to pay off a debt and people really wonder why he's so hated?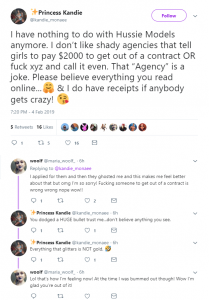 I'm here to give you the 411 about porn stars and in the adult industry as a whole.