Be warned – Hoby Buchanon is a scumbag! #FakeProducer
One of my favorite things to do is read the messages men send to girls on dating sites when the girl they message doesn't respond. It's always just some over the top thing, all because some man didn't get his way.
Here are a few examples.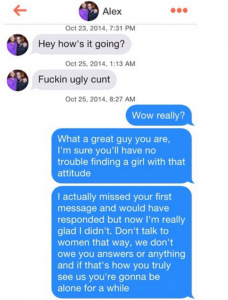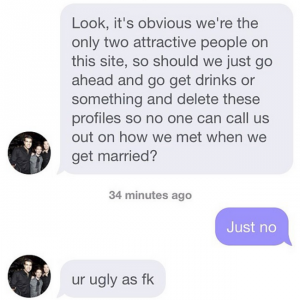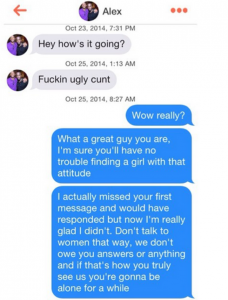 What you wouldn't expect is a producer to behave like this.
But sadly that isn't the case. I want to be clear from the start this isn't a real producer. This is what we call those "clips for sale guys". They technically make their product commercially available through sites like ManyVids.com, or Clips4Sale.com, but in reality, these guys are nothing more than just girls who want to hire porn stars to give him a blowjob and the one easy way to get around the prostitution law is to film it as if it were a scene then offer that scene up for sale.
These type of situations always end up bad and it's something I always warn performers to avoid.
This guy is the perfect reason why.
So the "producer" contacts Ginger Banks and offers her $300 for a blowjob.
She says thanks but no thanks she isn't taking any bookings right now.
He doesn't take the hint.
So what does he do? He tells her to do her job and suck did.
This is the guy and ad the guy runs on Craigslist to get girls to shoot with him. If you come across this ad or this guy RUN THE OTHER WAY.
Another person made mention that "he doesn't live in AZ – from what I know and from what we've talked about, he lives in Irvine, CA.  but he likes to travel between Los Angeles, AZ, and Vegas. So be aware!!"
He used to go by the name @hobyxxxbuchanon but seems to have changed it.
Shelby Paris said she spoke to the guy and he is the worse. After she turned him down he kept calling her on SnapChat and sending her dick pics!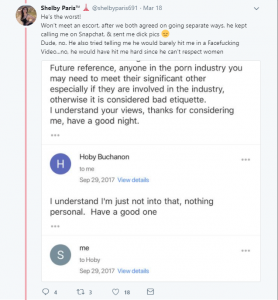 Madeline also chimed in to warn girls he's also known for ripping girls off! This is why you need to stay away from the fake ass, Clips4Sale guys! SERIOUSLY GUYS!! They are not real, legit producers – they are hobbyist!
The more I looked into the guy, the worse it got.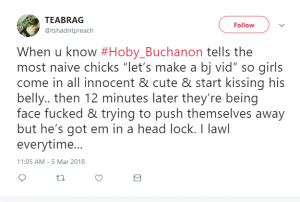 I found the heart of a lion, in the belly of the beast. 
I held it in my hand, and I could feel the beat.