Another agent caught scamming girls with fake fees ** UPDATED
Every time a new performer signs with an agency she must have photos that her agency can put on their website. Every agent needs photos of the girl to send out to producers to see if they might be interested in booking her. They then place those pics on their website in hopes of enticing more bookings for said performer.
Most agencies send the performer to a legit photographer will charge the girl about $150 for a set of photos that actually look professional and not look like something someone took with their cell phone.
Also, if the model pays for the photos, they are hers and the photographer should send a hi-res copy of the full set to the model for her future use on her website, on Twitter, or with her next agency if she so desires. Always make sure you get a copy of any photos you paid for and don't accept a low res copy either – get the full high-rez set! You paid for these pics, they are yours!
Here are some sample images of Shyla Jennings from ATMLA's website. A perfect example of how professional (paid for) images should look.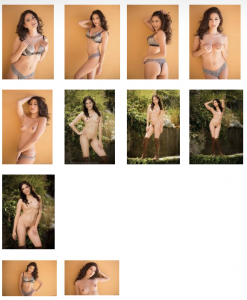 What isn't acceptable is for an agent to pull out his cell phone, snag a couple pics of a girl standing against a wall in your house and then charge her $100 and call them professional agency or casting pics.
How can anyone seriously compare these images of Casey Ballerini, that Motley Models is trying to pass off as professional to those above, from ATMLA of Shyla Jennings – obviously real agency pics.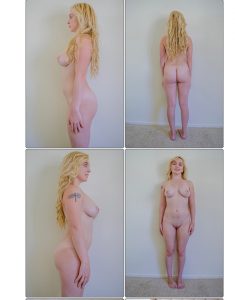 How could any agent seriously justify charging a girl $100 for pics like these? That's ridiculous and flat out scamming a girl!
4 crappy cell phone pics, for $100?
_______________________
Update: I spoke to Dave of Motley Models today (Saturday – Nov 4th). Although the girl is the one who said she was charged the $100 for those casting pics, it seems she was confused. According to the owner of Motley Models, "I never once charged a model for photos. The girl was mistaken."
He was very clear in that he has never once charged any model, ever for agency pics.
He said the only thing he can think of as to why this girl would say that was because she was confused that perhaps she misread something on her invoice.
He said that he gives a detailed invoice for every charge and the girl might have misread something as she was also confused about another $70 charge for a shared ride to the gym, which in fact was only $10, so it's not out of the realm of possibility that, this is what happened.
Anywho, just to be clear, Motley Models swears up and down they never charged her for these casting agency photos and wanted to make sure everyone knew this.
Hello, my name is Kelli Roberts. I am a published author, AVN nominated producer, and webmaster who has worked in the adult industry since August of 1996.