It's time for the industry to stand up and do the right thing. Yes @xbiz we mean you!
Let me be frank, Jessica Drake is not a nice person. For years there have been murmurs about her behavior towards other female performers. But everyone turned a blind eye to her inappropriate behavior, until now. While August Ames's family will face the new year without her, Jessica Drake, one of her bullies, Jessica Drake will be honored as the host of this year's XBIZ awards.
I am not the only one who finds a problem with this.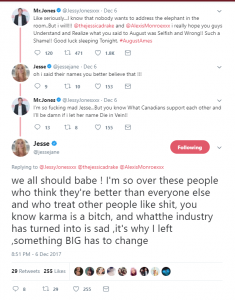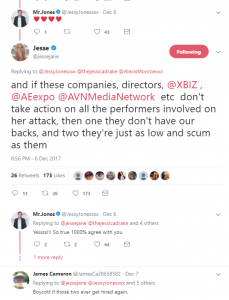 Instead of apologizing for what she did to contribute to the pain and suffering that August Ames went through on the last day of her life, Jessica Drake plays the victim and continues to defend herself instead of being a decent human being and owning up to her actions.
Jessica Drake wants you to feel sorry for her as if somehow she was the victim.
She has even gone as far as threatening people and calling their employers when they speak out against her to try and get them fired. All instead of owning up to what she did wrong.
That kind of behavior speaks volumes about the kind of person Jessica Drake really is.
That she would actually try and get someone fired for speaking out against her just goes to show you how underhanded and conniving she really is.
Jessica Drake is not a good person.  This is what she tweeted instead of an apology.
i will not spend the day fighting…but i also will not stay silent when lied about. if you're going to accuse anyone of anything, i ask that you always have the facts to back it up.
She's so busy defending herself she forgets that she herself was responsible for causing a person an immense amount of pain and suffering and that at least in part, because of that pain and suffering, that person took her own life.
Jessica Drake wasn't the only reason August Ames killed herself, but let there be no confusion, she did contribute to her pain and suffering.
August Ames won't be spending Christmas with her family this year.
August Ames won't be attending the very awards show that Jessica Drake will be hosting.
So while one of her bullies is honored and revered for her "greatness", August Ames will be six feet under, never to breath another breath.
August Ames is dead and nothing anyone does or says will bring her back. That's a fact.
But when I heard that Jessica Drake was out there seeking vengeance against people who were calling her out for her dreadful behavior, I felt I had no choice but to speak up.
It was then I decided this will be my first official post as a new author on MikeSouth.com. I wanted to use my powers as a blogger for good. I wanted to take the opportunity to call out people when they do bad, not to hate on people for the sake of just hating on people, but to stand up for those who don't have a voice. Or those whose voices have been silenced by threats against them.
Jessica Drake actually tried to use her influence in the industry to seek revenge against those speaking out against her. So now I will use my voice to fight to make sure that you all know what kind of person Jessica Drake really is.
See, Jessica Drake may be able to silence some people, but not all.
There will always be people like me who know what she has done and will tell everyone.
I can remember the first time I had ever heard of Jessica Drake. It was long before she became a Wicked contract girl. It was back in the way when she was using a fake ID to make herself appear younger than she actually was.
It was at that moment I knew I didn't like Jessica Drake. It told me everything I needed to know about her — that she was a self-involved, selfish bitch.
See, while she thought of herself and worried that if people knew her real age she would get fewer bookings, she didn't care that by using that fake ID, it would cause countless legal troubles for those companies that did hire her. It meant they could have trouble distributing the content.
This makes the content that cost some producer thousands of dollars, suddenly worthless. But fucking other people over obviously wasn't a concern for Jessica Drake or she wouldn't have lied and used a fake ID in the first place.
Although a lot of time has gone by she may think that people don't remember she did that. But she's wrong. Some of us will never forget what she has done.
And it's not just the fake ID either. Let's not forget the bullying and abuse of other girls who have worked with Wicked in the past. Anyone who Jessica Drake saw as competition, she would be mean to.
Nobody could do anything about it because she was sleeping with the boss and their hands were tied.
Is this really the kind of person we want to hold up as a representative of our industry?
Is this really the kind of person that should be honored by hosting award shows?
When will XBIZ stand up in support of August Ames and others like her bullied and do the right thing by replacing Jessica Drake as this year's award host?
I'll leave you with this –