Former porn star Nicole Clitman has died
Former adult performer Nicole Clitman died on Tuesday, March 12, 2019. Although originally from a small town in Illinois just south of Chicago, she was working and living in Maryland. A celebration of her life is being held for her friends and family on Wednesday, March 20th at her hometown of Decatur, Illinois, where her family still lives.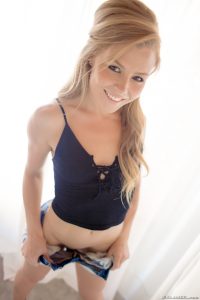 She was only in the industry for about a year from 2016-2017, and during that time did less than 50 scenes. Those who knew her spoke very highly of her, calling her one of the sweetest people they've ever known.
One of her friends who knew her outside of the adult industry had these kind words to say about her friend who has passed.
I just found out that my beloved (NICOLE) died. ? I don't even know, what to say! ??? She has touched the lives of SO many, SO deeply… That I can't very well say, that she was "my" (NICOLE). But I think, a LOT of us, feel that way! God bless (NICOLE's) family, and friends. ?? Let us keep her in our hearts ALWAYS – we must always remember all of the good times and to talk about them – to keep her alive, in our hearts!! Our loss will be deeply mourned – and she will be DEEPLY missed! ? But, if there is a Heaven – I KNOW she is actually in a better place, now! ? We ALL love you – Shelby!!! ?
Another one of friends had this to say …
Let us remember that she was SMART, too – and an artist. She was VERY deep!! And, SOOO beautiful!!! Inside and out!! She also had EXCEPTIONAL aesthetic sensibilities! 

?

 She floored me, with that!! 

??

??

 She was a VERY old soul and she knew that about herself. She was intuitive. We had some very sincere, very REAL conversations. She was a VERY good person. 

?

 She was thoughtful and KIND. She LOVED her friends and family! 

?

 She was always posting total love, mushy, gushy posts on facebook about her treasured loved ones – and the memories she shared together with them. 

?

?

 And she was a fighter! She was a feisty little one! A thinker, a rebel, and the most fun you'll ever have!! 

?

 Her whole life – she was fighting a HARD uphill battle with depression – but, man, she tried her best, to enjoy her life, anyway! She tried to live life good to the last drop. I think, she squeezed out some good times. 

??

?
After leaving the adult industry Nicole Clitman went on to work in the medical field as a medical assistant.
Her unexpected death at only 27 years old has her friends and family reeling. Her cause of death is currently unknown but many have made mention that she has suffered from depression for years.
Nicole Clitman meant the world to so many, both inside the adult industry and out. She was sweet, thoughtful, talented and funny and she is gone way too soon.
Please join us in wishing her family the best during this awful time in their life.
I found the heart of a lion, in the belly of the beast. 
I held it in my hand, and I could feel the beat.