Jaxton Wheeler says "not sorry" and "would do it again" to August Ames
Over the weekend several of the authors here at Mike South began listening to an audiobook called The Lady Days of August. When someone first sent me the link, I figured it was just them telling me about a story they were writing. I was about to just ignore the email but for some reason I clicked the link and found the August in the title was about our very own August Ames and that caught my attention. I sat down and listened to the book in its entirety and can't say I'll ever be the same as a result.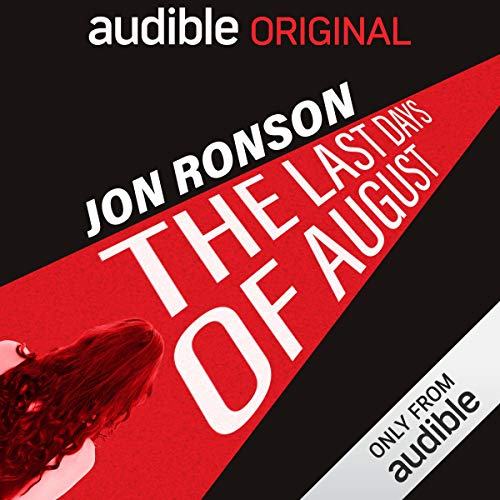 The are a shocking number of things this book reveals, which I'm confident either myself or the others here will be discussing in the future. There are just so many things to discuss, that it's going to take time to work through them all.
Although it was only a brief part of the audiobook, when the author spoke to Jaxton Wheeler about what he said to August Ames the day of her death, I was floored at his response.
In case you don't remember, this is what Jaxton Wheeler tweeted to her on the day of her suicide.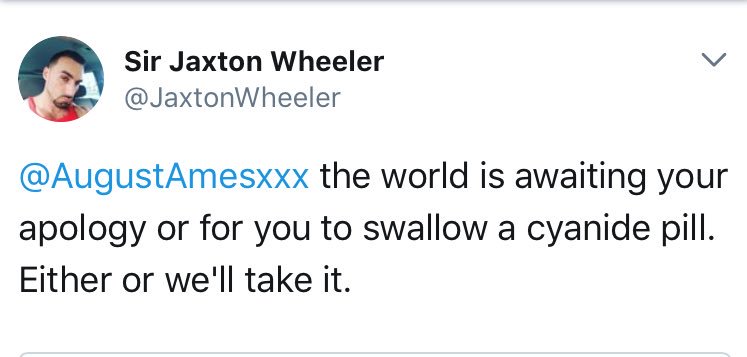 The piece of human excrement known as Jaxton Wheeler defends in a variety of ways. First is the argument that she didn't see it anyway because by the time he said it, August Ames was already dead.
Not realizing that it doesn't matter if August saw it or not. The disgusting part is that he would say it in the first place. It only goes to show you just what a piece of scum the guy really is.
Jaxton Wheeler continues to say bad things about August Ames, even after her death. I mean what kind of sick fuck would speak ill of the dead, especially someone who died in such a way?
Despite what Jaxton Wheeler would have you believe, August Ames was not a homophobe. She just didn't want to have sex with a gay guy, someone who wasn't attracted to her, because they prefer men. Would you want to have sex with someone who you knew wasn't into you? I know I wouldn't.
The crazy part was, the person that she was scheduled to do a scene with wasn't a crossover at all. The guy's name was Brandon Ashton and while he may look like a 70s porn star with that mustache, that's about the only thing he was actually guilty of.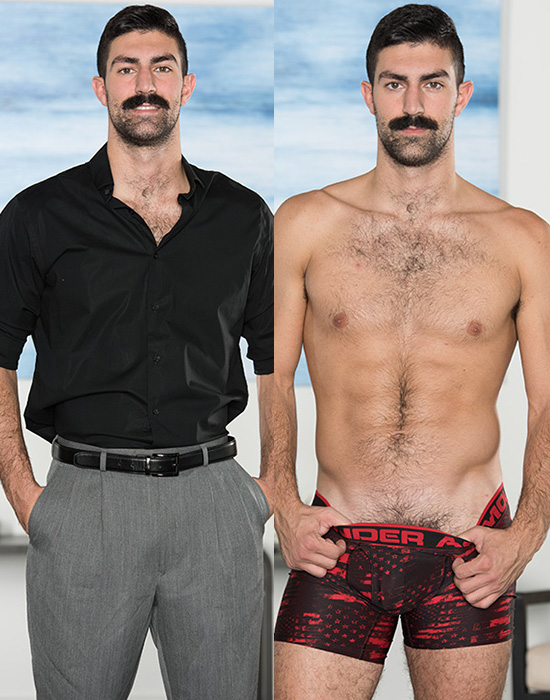 So why did she think this? In October of 2016 a scene came out on a gay website where he was playing with his cock. He was the only person in the scene. Yes it appeared on a gay male website but a man playing with himself is not a gay scene. Later another scene was released where he was in a room with two other men. In the scene each of the three men played with themselves in what is often called a circle jerk. Neither of the men ever touched the other. While it's true he flirted with the gay side of things, he never actually did a full on gay scene and thus making him not a crossover. Yes I realize others have written about Brandon before so I won't go further into his history.
I'll just say that in the end, August Ames' right to choose who she wanted to have sex with. And that is the way it should be. A porn performer for any reason, at any time should have the right to say who she doesn't want to do a scene with. It doesn't matter why she puts a person on her no list. She said no and that's the end of that discussion.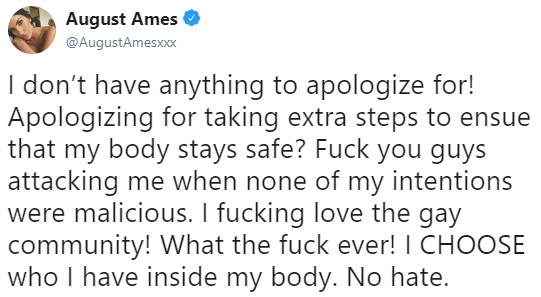 But Jaxton Wheeler is a special kind of stupid. One who to this day continues to insult female performers who don't want to have sex with him. In his interview with the author of The Last Days of August, Jaxton Wheeler had this to say …
"You know when I heard she had died the next morning my thought process was, why? Like who kills themselves over being told they made a wrong statement? It didn't make sense to me."
He still stands by the fact that all he did was shame her for making a homophobic comment. He doesn't seem to get that she has the right to chose who she wants to have sex with. He still considers himself in the right.
"But the whole thing was there has to be a lot more to this than her being shamed for making a homophobic comment that she refused to take down even after the community said that's what we like."

"What she said, the way she said it was bullshit. So I would approach this whole thing the same exact fucking way."
Yes, Jaxton Wheeler really did say that if he had to do it all over again, he would do it exactly the same way as he did before.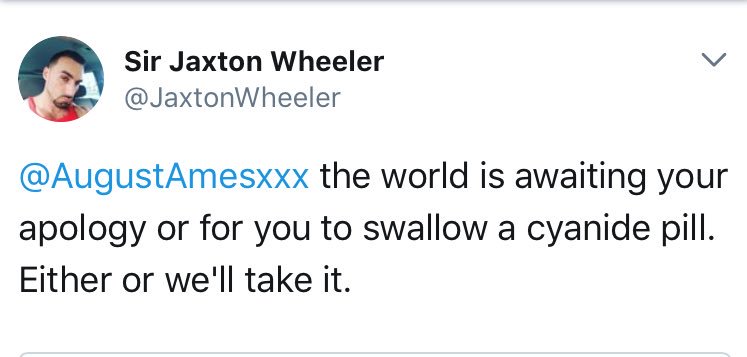 "If you are going to be adult enough to have half a million fucking followers and be a big girl porn star – listen she's younger than I am so she should known damn well that the social media platform is not a place for sunshine and kisses."

"I don't feel bad. I don't feel bad for like … She wasn't bullying. She was literately just getting her ass handed to her."
He considers himself a scapegoat and doesn't take the slightest bit of responsibility for his behavior. He doesn't get why telling someone, anyone to go kill themselves because … well for any reason, isn't okay.
He even goes as far as confronting August Ames' brother, just weeks after her death and blames them for not taking better care of her.
I guess we all sort of knew that about Jaxton Wheeler. He's a horrible person and this book only confirmed that fact. In the year since August Ames' death he's only become an even worse human being than he was before.
All I can say now is that I hope that his family, every single member of his family, for the rest of their lives, are treated as badly as Jaxton Wheeler treated August Ames and her family. I know that may sound harsh but I think in this case, he and his entire family deserve no less.
I found the heart of a lion, in the belly of the beast. 
I held it in my hand, and I could feel the beat.