UK Age Verification Plan for Porn Websites Delayed by Government Again, Says Digital Minister
Age restrictions on porn websites have been delayed by British government again, the digital minister has told MPs.
Margot James said checks, which had been due to come into force by the end of December, are now being pushed back until April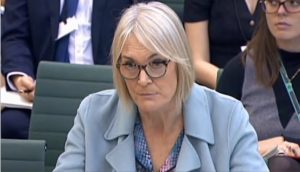 .
The minister said the system was still yet to be agreed by parliament and once that happened there would need to be a three month period to allow the industry to implement the checks.
The verification system had initially be slated to start in April this year but has been pushed back a number of times as the government and adult industry have grappled with how it will work in practice.
Under the current scheme adult websites will have to provide their own verification software, which will then have to meet standards and checks carried out by the British Board of Film Classification.
Ms James, who gave evidence at the Science and Technology Select Committee today, said the measures were taking longer than she wanted but that they needed to give the adult industry time to get age verifying systems right.
Ms James also suggested that social media companies could come under a similar age verification system in the future after MPs pointed out adult material was easily available on many of the networks.
She said: "We can expect it to be in force by Easter of next year and I make that timetable through the knowledge we have laid the necessary secondary legislation before parliament.
"I am hopeful of getting a slot to debate it before the end of the year. We have always said that we will permit the industry three months of getting up to speed with the practicalities and delivering the age verification that they will be required by law to deliver.
"We have also had to establish with the British Board for Film Classification, which has become the regulator, and they have had to consult on the methods of age verification.
"So it has taken longer than I would have liked but I would balance by a confidence that we have got it right."
Age restrictions are being brought in under the 2017 Digital Economy Act to protect children from stumbling across pornographic material online.
Adult sites that fail to comply with the age verification checks face a number of sanctions including having their addresses blocked in the UK.