Revenge Porn Operator and 'Anarcho-Capitalist' Craig Brittain Runs for AZ U.S. Senate
A revenge porn extortionist, whose battle cries are "Great America Wins!" and "Taxation is Theft", launched his campaign for Jeff Flake's U.S. Senate seat last September. A self-described anarcho-capitalist, Craig Brittain's platform that includes decriminalization of marijuana and ending all taxation.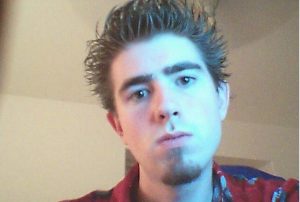 A spectacularly unhinged candidate has arisen to challenge the seat of U.S. senator from Arizona Jeff Flake, who has the lowest popularity rating in the Senate.
According to Ballotpedia, former revenge porn website operator Craig Brittain wrote the following statement about his political philosophy in his biographical submission:
Taxation Is Theft. End The Federal Reserve. Repeal the 16th Amendment and the Federal Reserve Act.
The Arizona Daily Independent writes, "That might be the most sober statement made by Brittain."
According to the blog, The Narrative Times, after readers responded to an article about Brittain's candidacy, he "respectfully responded by calling one of his own constituents a "whore" and telling her to "fuck off."
Britain is also begging for an endorsement from President Donald Trump.
A report in the Phoenix New Times notes of Brittain's candidacy:
He'll likely face an uphill battle, given that he's faced accusations of online harassment and is best known as the former owner of a revenge porn site, IsAnyoneDown.com. The site published nude photographs of women without their consent, which could then be removed in exchange for a payment of $200 to $500, leading to a complaint from the Federal Trade Commission.
The FTC alleged that Brittain "used deception to acquire and post intimate images of women", which would then be posted on the site, often alongside their address, phone number and Facebook profile.  Brittain would also offer a reward of $100 or more in exchange for pictures and supplementary information, the complaint stated.
He was banned from posting nude images of people without their consent, and was required to delete the material already published.
Incidentally, Brittain wants to abolish the FTC. As well as the Federal Communications Commission, Internal Revenue Service, United Nations, Food and Drug Administration, Environmental Protection Agency, Federal Reserve, Transportation Security Administration, Drug Enforcement Administration, and the Bureau of Alcohol, Tobacco, Firearms and Explosives.
In 2015, Brittain had the balls to ask Google to remove his past history, citing news outlets' "unauthorized use of photos of me and other related information" in a DMCA takedown request.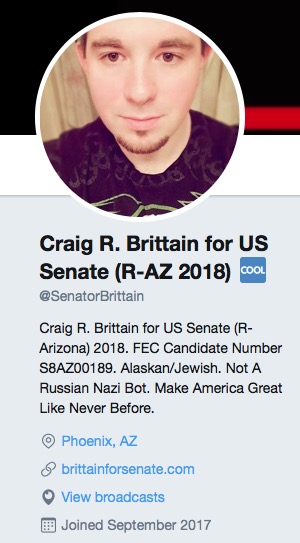 Brittain also seems to be suffering from some paranoid delusions about a media conspiracy founded by his campaign opponent, frontrunner Dr. Kelli Ward:
On Twitter, Brittain frequently posts digs at Ward, claiming that she's paying off the media so that they won't cover his campaign.

When asked to provide evidence of this, Brittain responded that Ward "is endorsed by Sean Hannity and Laura Ingraham, both who previously followed me on Twitter. They now refuse my communications and attempts for dialogue."
Yep, must be a conspiracy.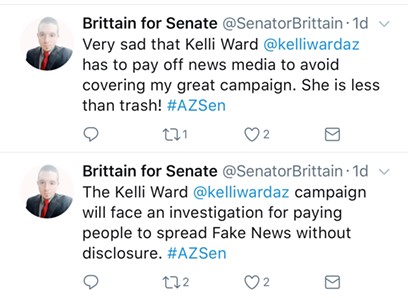 In a recent, topical addition to his platform, Brittain says he also wants to abolish Daylight Savings Time.

Most of Arizona already has no Daylight Saving Time. With the exception of the Navajo Nation, Arizona does not use DST, because the last thing that people in a hot desert climate want is another hour of daylight.
Despite frequently hurling insults at the "fake news media," Brittain seems desperate to get their attention. He's been tweeting at New York Times reporter Sheryl Gay Stolberg, the Arizona Republic's Laurie Roberts, 12 News' Brahm Resnik, and ABC15, accusing them of ignoring his campaign.

Resnik replied to him with a link to the FTC's complaint. "Hey sunshine: This might be a problem," he wrote.

Brittain's response? Fake news.
I never felt more satisfied or optimistic than when I rode the river in my youth.