Expelled Arizona State Rep. Claims Don Shooter is Back, Citing Violation of 'Revenge Porn' Law
Former Arizona Republican state Rep.
Don Shooter
, who was removed from office after revelations about film producer
Harvey Weinstein
spurred a national conversation on workplace harassment, is back in the news with a cunning plan.
Shooter said Monday that he wants law enforcement to investigate whether "unsolicited, potentially explicit communications" referenced in an investigative report on sexual misconduct at the Legislature violated the state's "revenge porn" law.
And Republican Rep. Anthony Kern said he sent letters to the FBI and four state and local agencies seeking the investigation of a former House staffer.
Apparently Don Shooter's thinking is: "Sure, I went down, but now I'm going to drag as many others with me as I can"; "I can redeem myself by pursuing something that looks like justice for one of my female accusers"; and "at the same time, I can dirty-up my accuser's reputation by bringing these potentially explicit communications about her into the news."
Separately Monday, another GOP lawmaker introduced legislation that would bar the release of explicit photos discovered during a sexual harassment investigation at the Legislature, protect the depicted person's identity and require that no one the lawmaker or staffer interacted with would ever see them.
Rep. Kelly Townsend also wants a new law requiring harassment laws for members of the Legislature and a formal reporting process. She said the intent is to protect victims of harassment, not perpetrators.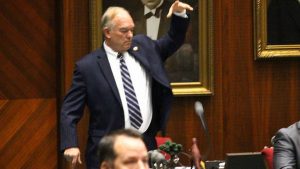 The investigative report into the now-expelled Shooter also included his complaints against his first accuser, Rep. Michelle Ugenti-Rita: that she made improper comments and had a relationship with a House staff member.
That part of the investigation revealed that Ugenti-Rita's then-fiancee, Brian Townsend, apparently sent the communications Kern wants reviewed to a third person.
The report showed he told investigators he sent the communications, which weren't described further, "to hurt and humiliate her." Ugenti-Rita declined to comment on that two-page section of the report.
Shooter down
Investigators spent the majority of the 75-page report documenting a lengthy pattern of sexual misconduct mainly involving inappropriate comments to women against Shooter, and cleared Ugenti-Rita of improper behavior.
Shooter was expelled from the House last week on a 56-3 vote.
Kern said Monday he's troubled by details in the report about Townsend, although its lack of detail makes it hard to determine what exactly was sent.
"I would assume that it would conflict with our revenge statute porn that we passed in March 2016," Kern said. "In addition to that is the conclusion of the attorneys that there is a very strong possible of some possible unlawful acts were committed."
Kern said he would oppose Townsend's push to keep secret explicit photos of lawmakers discovered in future investigations.
"I think if you're ever going to run for public office or go into any kind of law enforcement job that's absolutely insane to be doing that," he said.
I suppose the would be calked the Anthony Weiner rule.