Arkansas Democratic political consultant used child porn, smoked meth at work: Indictment
A formal grand jury indictment was filed last week in federal court in Little Rock charging local Democratic Party political consultant Harold "H.L." Moody Jr. with six child pornography charges.
An Arkansas political consultant who was arrested on a charge of possessing child pornography is now also accused of distributing child pornography and smoking methamphetamine at his county job.
Moody, 37, was arrested Oct. 29 on a criminal complaint that was filed Nov. 2 and later unsealed.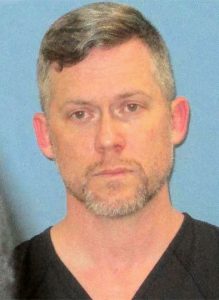 The Arkansas Democrat-Gazette reports that a federal agent testified Friday in a pre-trial hearing that Harold Moody, once the spokesman for the Arkansas Democratic Party, accessed child pornography chatrooms and video-conferencing applications from his desk from Aug. 29 to Oct. 12.
At the hearing, Moody's lawyer argued for his release until trial, but U.S. Magistrate Judge Joe Volpe ordered he remain in federal custody.
Undercover investigation
According to a news release from U.S. Attorney Cody Hiland and Jere T. Miles, special agent in charge of Homeland Security Investigations' New Orleans Division, an undercover investigation into child exploitation chat rooms led federal agents to discover Moody. The agents observed the Democratic Party political consultant in the chat rooms at least five times, the officials said.
The affidavit said that on Aug. 29 agents saw Moody through his webcam in a chat room when child pornography was being displayed. It said his face was clearly visible and he appeared to be in an office. Later that same day, he was again observed in the same chat room while in the same office, it said.
An investigator wrote that on Sept. 7, Moody was seen on camera distributing child pornography, including a video of an adult male performing oral sex on two pre-pubescent males. The complaint said he followed the video with a message to all participants of the chat room saying, "not the version i thought."
When another user asked Moody to play more videos, he responded, "I do not play on demand," according to the affidavit.
It says he was again in the chat room distributing child pornography Sept. 9 and Oct. 12.
Moody was arrested Nov. 5 then immediately fired from his job as special events coordinator for Pulaski County Youth Services, which the county said didn't include direct interactions with children.
His job involved planning fundraisers, such as a Champions of Youth event last month, according to county spokesman Cozetta Jones.
Associated Press