The Mike South Movie of the Month for May is Cranked #NSFW
It's a new month and you know what that means … time for the Mike South movie of the month. This month I've selected an oldie but a goodie, Cranked from Bluebird Films.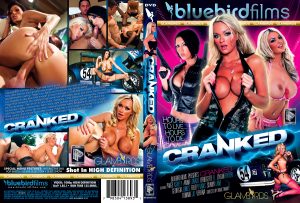 This movie was directed by Marc Twain and is a parody of the mainstream version of the movie of the same name. The movie stars Bridgette B., Sunny Lane, Georgia Jones, Dylan Ryder, Riley Evans, Paige Ashley, Anna Lovato, Tommie Jo, and Venera with Johnny Castle, Tommy Gunn, Rocco Reed, Keni Styles, Jack Lawrence, Derrick Pierce, Danny Mountain, Karlo Karrera, and Anthony Rosano.
Yes, I know it's a huge cast. Bluebird Films was just sort of known for doing that with their feature films.
In all, there are 7 scenes in the movie, which are broken down for you below. Overall the movie was highly rated and got a lot of critical love. But you know out of the 40 or so award nominations Bluebird Films got that next year, Cranked didn't get a single one. Then again they were competing with Bonny & Clide, and BatFxxx: Dark Night that year so it's hard to give every movie that Bluebird Films releases award noms.
Anna Lovato and Paige Ashley
Paige Ashley, and Sunny Lane, with Johnny Castle
Bridgette B, Dylan Ryder, Tommie Jo, and Venera, with Tommy Gunn
Paige Ashley, and Riley Evans, with Anthony Rosano, and Keni Styles
Paige Ashley, with Derrick Pierce, and Rocco Reed
Dylan Ryder, with Karlo Karrera
Anna Lovato, Bridgette B, Dylan Ryder, Georgia Jones, and Paige Ashley, with Danny Mountain, Jack Lawrence, and Tommy Gunn
Still, despite the lack of award noms, it was a good movie, with high-quality production values.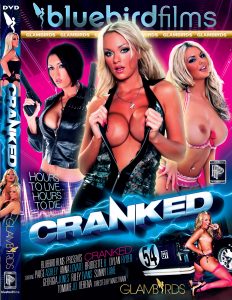 Paige is an assassin whose been poisoned by mob boss Chilli Manilli, (Dylan Ryder) who wants Paige out of the picture. To stay alive, she has to keep her heart pounding and adrenaline rushing so she has to keep fucking long enough to get the antidote. Paige leaves a trail of hot sweaty sex behind her. She pays a visit to her doctor played by the sexy Anna Lovato and has a mind-blowing suck-fest. Cranked up, she bolts over to the hospital for a dose of fuck-sauce from Nurse Sunny Lane and Doctor Johnny Castle. Paige leaves no cock unfucked. Even a hot foursome with Riley Evans in a strip club leaving her doused with cum doesn't slow her down. Paige catches up with Chilli in a chop shop where they have a gunfight and an orgy. Will Paige get the antidote?
Hello, my name is Kelli Roberts. I am a published author, AVN nominated producer, and webmaster who has worked in the adult industry since August of 1996.