Trump: Cohen was repaid for $130k transfer to Stormy Daniels out of retainer
The reimbursement to lawyer Michael Cohen for funds paid to porn star Stormy Daniels under the terms of a 'hush agreement' was done through a monthly retainer and "had nothing to do with the campaign", the president said.
In a series of tweets Thursday, President Donald Trump provided his most detailed statement to date about l'affaire Stormy including references to the nondisclosure agreement Daniels signed with Trump's personal attorney Michael Cohen: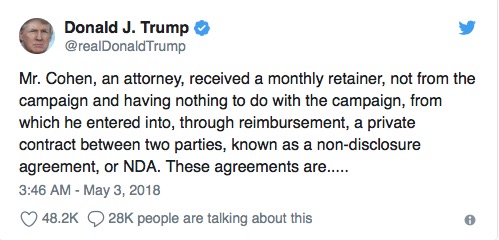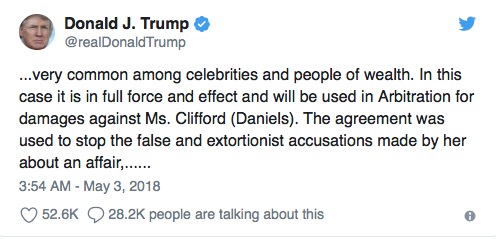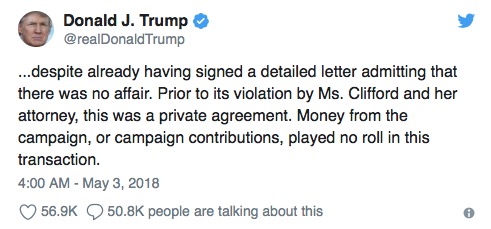 Trump's tweets outlining the arrangement came after Rudy Giuliani, one of his attorneys, said Wednesday that Trump reimbursed Cohen for $130,000 in hush money to Daniels prior to the 2016 presidential election, appearing to contradict the president's past claims that he didn't know the source of the money.
During an appearance on Fox News Channel's "Hannity," Giuliani said the money to repay Michael Cohen had been "funneled … through the law firm and the president repaid it."
Asked if Trump knew about the arrangement, Giuliani said:
"He didn't know about the specifics of it, as far as I know. But he did know about the general arrangement, that Michael would take care of things like this, like I take care of things like this for my clients. I don't burden them with every single thing that comes along. These are busy people."
Asked aboard Air Force One last month whether he knew about the payment, Trump said flatly: "No." Trump also said he didn't know why Cohen had made the payment or where he got the money.
In a phone interview with "Fox and Friends" last week, however, Trump muddied the waters, saying that Cohen represented him in the "crazy Stormy Daniels deal."
It would appear that Trump's position is that he did not know the payment was being made at the time the deal was struck, but that Cohen, acting appropriately, took the money out of the monthly retainer he'd been given to handle such matters.