Hustler Lenny Dykstra Claims Ex-Pal Charlie Sheen is a Murderer and Has a Gay Sex Tape
Ex-con Lenny Dykstra says he's a good guy, and that former friend Charlie Sheen, who excommunicated him from his circle, is really bad
Lenny Dykstra. The only Major League Baseball player less likely to make it into the Hall of Fame than Pete Rose. Alleged gigolo to wealthy grandmothers. Long-time drug abuser and con man who did time for bankruptcy fraud and money laundering.  Fake investment guru.  A man whose net worth was $58 million in 2008, but filed for Chapter 11 bankruptcy in July 2009, listing less than $50,000 in assets against $10 million to $50 million in liabilities.
Dykstra was later accused by a former employee of making racist and homophobic remarks.  Not to mention, he rivaled Harvey Weinstein in the creepy sicko department: in 2012, Dykstra was convicted of lewd conduct and assault with a deadly weapon in Los Angeles.
As the L.A. City Attorney stated:
Charges against Defendant Dykstra stem from several reported incidents including one report in 2009, three reports in 2010, and reports in February and April of 2011. In each of the incidents, advertisements were placed by Defendant Dykstra on the Craigslist website requesting personal assistant or housekeeping services. When the victims arrived at the locations to meet Defendant Dykstra, he would allegedly inform the women that the job also required them to give a massage and would expose himself to them. During one incident in July 2010, Defendant Dyskstra held a knife and forced the victim to massage his body.
Arguably his worst crime was hitting on Lena Dunham on Twitter.  Good God.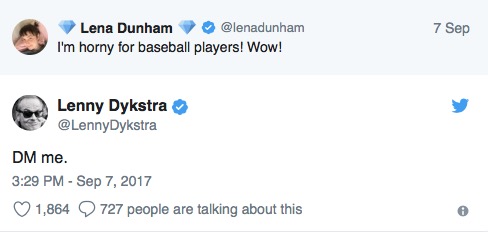 Well, Lenny Dykstra, or "Nails" to his pals, is back in the news after giving an interview to The Hollywood Reporter in which he made some outrageous and unsettling claims against Charlie Sheen. (Dykstra had previously monetized his past relationship with Sheen in his 2016 book, House of Nails, devoting a portion of the tome to the star.)
Sheen and Dykstra were buddies for close to 20 years.  By all accounts, Sheen was the person who stuck by Dykstra when no one else would.  But a few years ago, the two had an abrupt falling out.  Jerry Lewis once said of his ugly split and contentious feud with ex-partner Dean Martin, "You love hard, you hate hard," and that certainly seems to be the case with Dykstra and Sheen.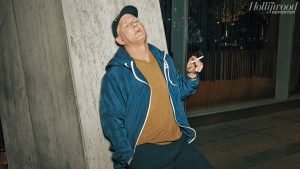 In his THR interview, Dykstra said that rumors circulating for years about a Charlie Sheen a sex tape are true and that he has actually seen the tape.
But Dykstra also claims that Keith Davidson, Sheen's attorney and a famous "fixer" who was also allegedly responsible for helping then-candidate Donald Trump arrange a $130,000 payment to Stormy Daniels to keep her quiet about their affair, was the one who screened a copy of the tape for him!
Now, while a reasonable person might believe it possible for a guy to show a private sex tape to his party buddy, how likely is it that Keith Fucking Davidson would trust Lenny Dykstra enough to show such a tape to him?  Give me a break.
Via email, Davidson has stated that it never happened.
Of the alleged Charlie Sheen sex tape, Nathan Francis wrote at Inquisitr:
In November 2015, Radar Online reported that there was a video showing Sheen engaging in a sex act with a man and smoking crack cocaine. The report claimed that the videos — three in total, each about 30 seconds long — were part of a lawsuit from a former lover who claimed that Sheen knowingly gave him herpes.

The report went on to claim that Sheen settled the case for millions of dollars after learning of the sex tapes. But once again, Keith Davidson surfaced to dispute the claims, telling Radar Online that the sex tape referenced was not part of that lawsuit, which included other video evidence that Davidson did not disclose. He added that the videos were subsequently destroyed after the case was dismissed and that the reports of a sex tape were not true.
Allow me to pause for a moment.  True or not, who gives a shit? I mean, really. Can't someone make a private sex tape anymore? And if it had been made without Sheen's consent, then he is the victim.  As for drug use — it's his damn body. Unless he's raping someone on video while force-feeding them drugs, who cares?  This whole allegation just reeks of Dykstra's patent bitterness about receiving "no recognition" for all the great things he did for Sheen and the people around him.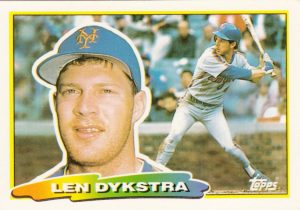 Hot dose
In his THR interview, Dykstra also sought to implicate Sheen in the 2012 death of Rick Calamaro, the actor's recently fired assistant.
Calamaro was discovered lying face up in his bed next to a bottle of Jack Daniel's. His autopsy report listed "very high" levels of Fentanyl, the powerful opioid that was also found Tom Petty's system after his recent multi-drug overdose death, and noted that Calamari had suffered from depression and had been taking a mixture of prescription medication for pain and anxiety. There were no signs of foul play. Like Petty's, Calamaro's death was ruled an accident.
According to The Hollywood Reporter:
Calamaro extended his gatekeeping instinct at times to Sheen's social circle, eventually earning the enmity of Dykstra, who grew convinced that Calamaro was working on a tell-all. "Before I went [to jail], I said, 'Dude, this guy, he is writing a fucking book, you got to fire him,'" recalls Dykstra (while freely admitting he himself later served as an unnamed source for the Enquirer).

After he got out of jail, says Dykstra, he asked Sheen, "What the fuck happened to Calamaro?" who had overdosed while Dykstra was in prison. "He said, 'You mean Dead Rick? What fucking happened is the motherfucker tried to blackmail me just like you said — wanted $5 million. I had him fucking iced.' He said he had a hot dose put in there," using slang for a lethal intravenous injection prepared for an unsuspecting victim.
Again, Dykstra portrays himself as the devoted friend in his interview.  However, THR also adds something that should be obvious to any thinking person:
Sheen's close friend, Tony Todd, who lived with the actor during this period and has known him since the two attended Santa Monica High School, laughingly scoffs at the charge, adding that even if Sheen were to have done such a thing, "Charlie's not going to tell it to Lenny Dykstra!"