Hollywood Hypocrites Judd Apatow and Chelsea Handler Can Go [email protected] Themselves #StigmaKills
Porn star shamers Judd Apatow and Chelsea Handler are emblematic of allegedly 'liberal' Hollywood elites who ignored and protected sexual predation by Harvey Weinstein, Kevin Spacey and others, but instead degrade adults who engage in consensual sex
On Twitter yesterday, February 10, 2018, celebrities Judd Apatow and Chelsea Handler, while attacking President Donald Trump, felt it necessary to share their opinion that porn stars were morally comparable to abusers, perverts, haters and criminals.
Here's what they wrote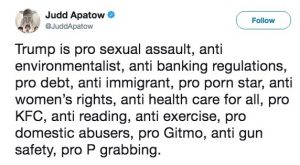 Bear in mind,  Apatow has made a fortune creating vulgar sex comedies, and has worked with Stormy Daniels. (He's also, as we can see, a propagandist who refers to gun control bans as "gun safety", but that's a point for another day.)
It wasn't long before members of the porn business, the sex worker community, their fans and allies made their disgust known at the pair's hypocrisy. Here's a sampling: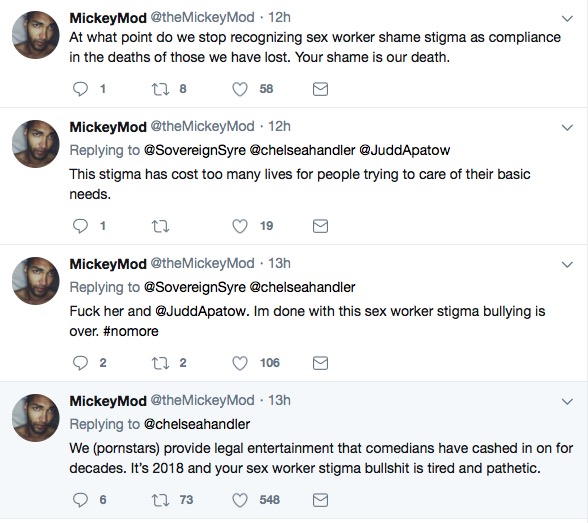 "We (pornstars) provide legal entertainment that comedians have cashed in on for decades", wrote performer Mickey Mod, who added that shame and stigma about sex work equaled complicity in "the deaths of those we have lost. Your shame is our death."
Porn star Stormy Daniels with Steve Carell in the Apatow-directed "The 40-Year-Old Virgin"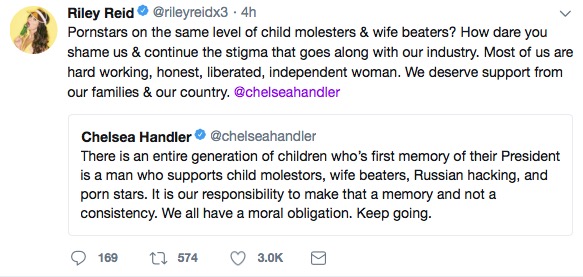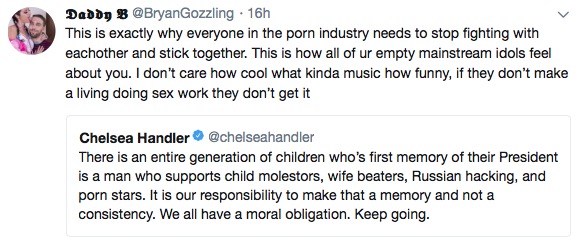 Seeing Chelsea Handler, who freely politicized a church shooting,  and body shamed Sarah Huckabee Sanders, write of a "moral obligation" is absolutely gag-inducing. This is the woman who makes racist jokes but condemns others for making them.
There's one rule for these people, and one for the rest of us.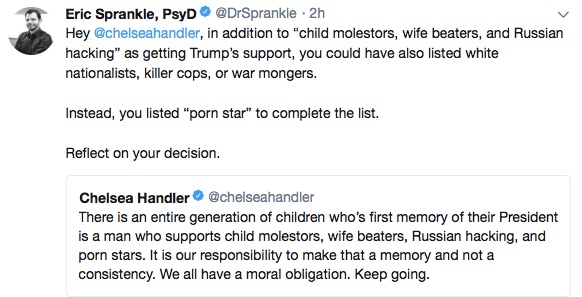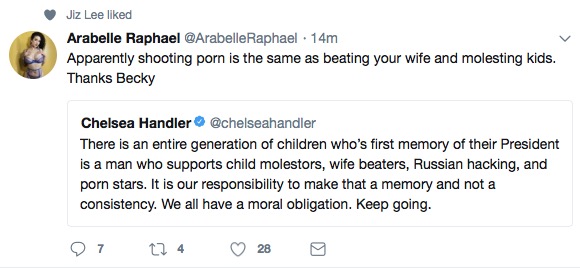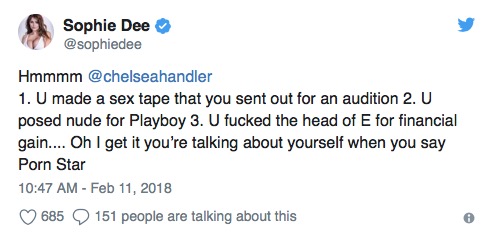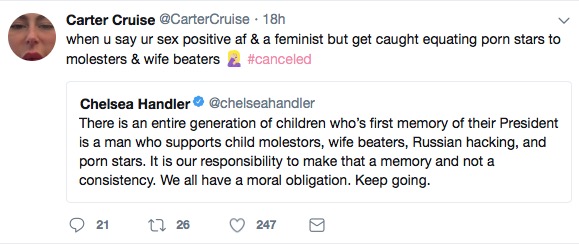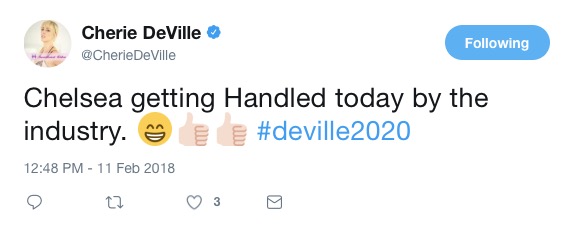 Even retired porn legend Jenna Jameson was pissed off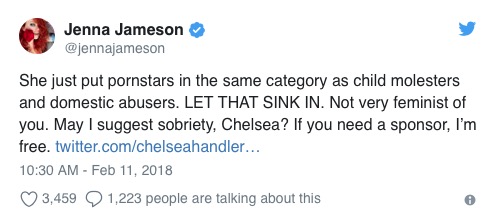 Apatow tried to weasel out of his remark, but no one was having it:
He later apologized for his phrasing, but the anger and hurt feelings remain.
Once again, two wealthy entertainers who enjoy the benefits of the First Amendment, one of whom considers herself a feminist, attack the members of a field where women earn far more than their male counterparts. More of the same tired old Hollywood hypocrisy from distressingly illiberal activists.
#StigmaKills  #NeverForget  #FuckYall
I never felt more satisfied or optimistic than when I rode the river in my youth.