Golden Harvey Weinstein 'Casting Couch' Statute Erected in Hollywood in Advance of Tonight's Academy Awards
The statue, dubbed 'Casting Couch', is located near the Hollywood Walk of Fame, and represents the product of a two-month collaboration between street artists Plastic Jesus and Joshua "Ginger" Monroe.
Sources say a statue of Trinity St. Clair and Richard Nanula, to be placed outside a public toilet in Van Nuys, is in the works.
A gilt statue of Harvey Weinstein, dressed in a silk robe, holding an Oscar and sitting on a golden chaise casting couch, has been erected by street artists in Hollywood — just ahead of Sunday's Academy Awards presentation.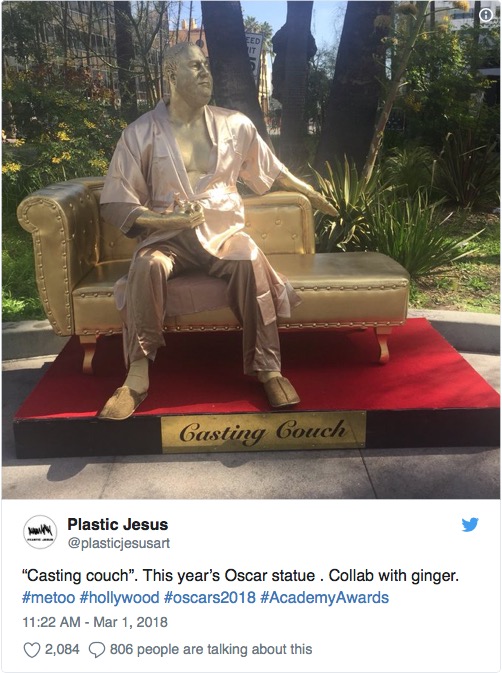 Plastic Jesus, who is an anonymous British street artist, explained on social media:
"Harvey Weinstein became an icon in the entertainment industry. His power and influence was almost without compare," he wrote. "However, whilst many thought the 'casting couch' was a thing of the past it was clearly still a part of the Hollywood culture.

"For many years the exploitation of many hopefuls and established names in the industry was brushed under the carpet with their complaints of harassment and sexual abuse being ignored or worse.

"Hopefully now in the light of recent allegations, against many leading figures in Hollywood the industry will clean up its act."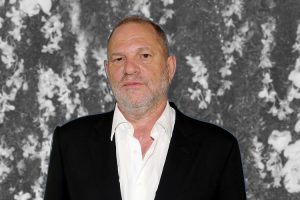 Weinstein, 65, has been accused by dozens of women of sexual misconduct, including rape. Though the fallen movie mogul and hirsute predator has admitted to some wrongdoing and sought 'professional help' (in the form of 'sex addiction' counseling), a spokeswoman has said that "any allegations of nonconsensual sex are unequivocally denied by Mr. Weinstein."
Nonetheless, Weinstein was fired from the company that bears his name, banned from the Producer's Guild of America and expelled from the Academy of Motion Picture Arts and Sciences.
The big wheel
Weinstein and his brother Bob founded Miramax in 1979. The brothers sold Miramax to Disney in 1993, but stayed on to run the company until they left to form The Weinstein Company in 2005.
Miramax was sold by Disney to Filmyard Holdings, a joint venture of Colony NorthStar, Tutor-Saliba Corporation, and Qatar Investment Authority, in 2010. Colony NorthStar as in private equity firm, Colony Capital, the company founded by billionaire Thomas Barrack Jr. that initially expressed interest in bailing out The Weinstein Company after the accusations against Harvey Weinstein led to his dismissal.
If Miramax and Colony Capital sound familiar to MikeSouth.com readers, it might also be because of a 2013 sex scandal that involved adult stars Trinity St. Clair, Samantha Saint and a certain "Mr. Rich", a.k.a. Richard Nanula, then-chairman of the Miramax film company and a principal at Colony Capital.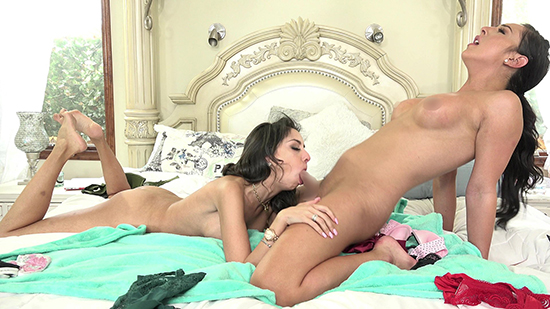 St. Clair booked Saint for a June 12, 2012 content shoot for TrinityStClair.com to be filmed at a private residence in Malibu, California. Saint did the scene, and later discovered that the male talent was actually Nanula, then 53, after he carelessly paid her in cash placed in an envelope marked 'Colony Capital'.
After shots from the video appeared on TheDirty.com, all hell broke loose and Nanula left his posts at Miramax and Colony Capital effective July 7, 2013. At that time, Barrack took Nanula's seat at Miramax.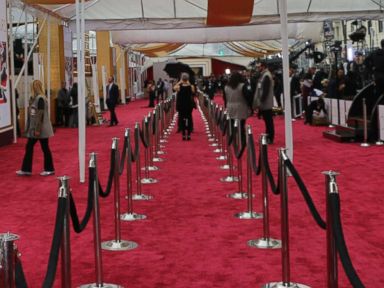 I never felt more satisfied or optimistic than when I rode the river in my youth.