Biopic of Portland's Most Famous Stripper Is a Powder Keg Debate About Sex Work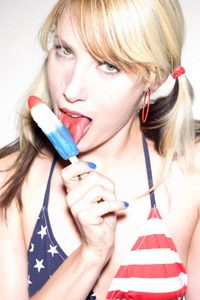 At the beginning of Thank You for Supporting the Arts, the filmmakers ask Liv Osthus, better known as stripper and writer Viva Las Vegas, to define who Viva is. Osthus, in a floral wrap dress and deep-red lipstick, responds with a small laugh and looks away from the camera. While she silently searches for an answer, directors W. Alexander Jones and Carolann Stoney cut to a riotous overture—a blast of footage of Las Vegas in a strip club twirling her bra over her head, testifying in front of the Portland City Council, and strangling a microphone while fronting one of her bands in only a thong and leather jacket.
Viva Las Vegas has been Portland's most famous stripper for over 20 years. During those two decades, she's also published a book, fronted the punk band Coco Cobra and the Killers and worked as Exotic magazine's editor-in-chief. Currently, she sings in a medieval French a cappella trio called Bergerette. In the late '90s, she testified in front of the City Council under the pseudonym Lila Hamilton to advocate for the rights of sex workers. At age 33, she was diagnosed with breast cancer. After recovering from chemo and a mastectomy, she continued stripping. Near the end of filming Thank You, she also gave birth to a daughter, Charlotte.
Two-fisted reporter. That's not my microphone, I'm just happy to see you.