War Machine's trial continues on in Las Vegas
AVN has been doing a great job covering the War Machine trial, but If you haven't been keeping up, today is the 4th day of the sexual assault/kidnapping/attempted murder trial of War Machine.
You might recall War Machine beat the living hell out of porn star Christy Mack and her "friend" Corey Thomas, who was with her at the time War Machine showed up to her apartment.
He now faces 34 criminal counts, including sexual assault, attempted murder and kidnapping.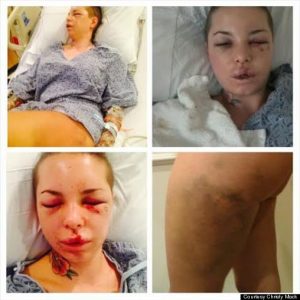 Christy Mack said War Machine "kicked her so hard in her ribs she collapsed and started convulsing, the New York Daily News reported.

"Now I have to kill you, I've gone too far," Mack said Koppenhaver told her. "You can't be seen like this. Everyone's gonna know."

Later, Mack said, she thought she'd blacked out from the attack, suddenly finding herself in the shower, naked, and tasting blood in her mouth.

He forced her to strip naked and repeatedly punched and kicked her, breaking several of her teeth. He then began checking out her social media accounts, and hitting her in the face every time he found something he did not like.
The savage beating took place on August 8, 2013. It's taken all these years for it to finally come to trial.
If convicted he faces life in prison.
David Schuman from KTNV 13 has been live tweeting the trial. You can follow him @david_schuman.
Mack wells up with tears describing a time War Machine choked her, screamed at her

— David Schuman (@david_schuman) March 8, 2017