War Hammer has been in jail for a year now, and he's already found God, tried to kill himself once or twice and now he's found love and even gotten engaged. The one thing he hasn't done is admit what a horrible piece of s hit he is for doing what he did to Christy Mack and Corey Thomas.
Luckily War Machine won't be eligible for parole until he is 71 years old and his marriage will have to wait a long time to be consummated because Nevada does not allow conjugal visits.
The 36-year-old former MMA fighter, Jonathan Koppenhaver, claims he has fell in love with pen pal Ashley Farrington who began writing to him after he was found guilty last year and began serving his life sentence.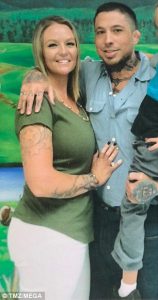 The scary part is, the crazy woman has introduced her child to this man.
Here's a love poem the psycho wrote to the woman. who he now calls the love of his life.
To: The Love-of-my-life,
I feel a pain inside
The love we share brings me to tears
I'm desperate to fully express it
But there aren't adequate words, nor will I live enough years
For this is an eternal love
One I feel I have always known
Even if only in my dreams
Or, perhaps, in the marrow of my bones…
Were you once in me?
What did God do?
Did he cut me open
And make out of me, a you?
Is that why words fail to express
And why I feel that, for you, I must bleed?
I want to be your hero, for you I'd gladly die
You must know that my love is true in deed
And here we have the greatest mystery solved
Of why Christ came to die
Words must have failed him too
A man needs his love to know he's no lie
And so he came and bled
For you and me and Coben too
Words fail all true love
And that's why, Ashley, I wish I could die for you
I found the heart of a lion, in the belly of the beast. 
I held it in my hand, and I could feel the beat.