Trinity St. Clair runs yet another GoFundMe Scam!
For years now Trinity St. Clair has been using GoFunMe claiming her dying mom as her excuse for scamming people out of money. Here is a link to the last time she did it.
But would Trinity St. Clair really be crazy enough to run another gofundme campaign to scam money. Is the 3rd time a charm when it comes to GoFundMe fraud?
Turns out the answer is yes — yes she would.
I mean is it a coincidence she creates the account at the very time she herself needs a large sum of money?
June 1, 2017 is a big date for Trinity St. Scammer, she has a massive balloon payment due on her house. And by big, I mean $60,000 big. Now add in the property taxes that are now past due and that's a whole lot of money she needs to come up with.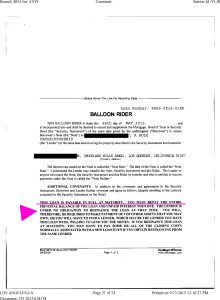 So what's a girl to do? Pull out the old sick mom card again. And look who her first donator was! GREGG DODSON!!!!!!!!!!!!!! Her pimp partner in crime.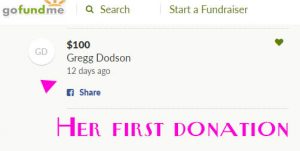 She says that she is seeking the $75,000 for her mom. Specifically, she says, "my goal is to raise funds needed to enable my mother to get proper treatment."
But in reality, it wouldn't cost her mother $75,000 to get proper treatment. In fact, after doing some research, it turns out it wouldn't cost her more than a few hundred dollars a month for her treatment if even that. Thanks to the recent changes in medical coverage, she can't be denied coverage due to her pre-existing condition.
So what exactly are her "life-threatening" symptoms?
Mild dizziness
Moderate loss of coordination
Mild loss of remote memory
Moderate difficulty sleeping
Come on! SERIOUSLY?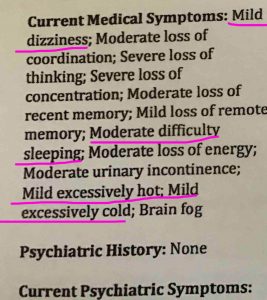 Of course, she also has those "expensive" medications, right? Maybe her insurance doesn't cover her "fish oil" or "protein drinks".
Let's examine her specific medications from a document that Trinity St. Clair herself provided. We are not disclosing anything that Trinity herself didn't provide.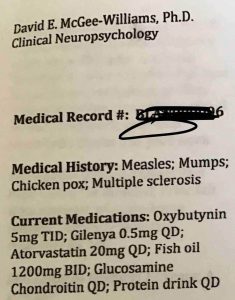 Oxybutynin is for overactive bladder
Gilenya is for MS but notices she's only on .5 mg.
Atorvastatin is for cholesterol
Fish oil? LOL not a real medication
Protein drink? LOL not a real medication
Glucosamine Chondroitin for joint pain which is common with people over 40
If someone was in such a dire condition, her doctor would put her on various medications to save her life. That's just what doctors do.
She's only on .5 mg of her MS medication and you know what the side effects her? You guessed it, dizziness, fatigue, fever and body chills. Everything she described as her current symptoms.
So in reality, her mother's condition is exactly as it was in October of 2015, by the very document that Trinity herself provided as proof that she wasn't lying.
In reality, her own doctor said, "there is no significant interval change and there is no evidence of volume loss greater than expected for age."
She suffers from short-term memory loss and has trouble sleeping sometimes, but so does everyone. It's not a life sentence. In other words, ANOTHER SCAM.
Trinity St. Clair said "Her cognitive evaluation, the results were heart breaking but my mom stays in high spirits. Severely impaired was the word choice from the doctor on every page. He left very little room for hope."
BULLSHIT!
In reality, her doctor said that her condition hadn't changed since her last MRI that took place on October 7, 2015. "very similar in appearance to the most recent prior MRI of 10/7/2015."
In other words, her condition hasn't deteriorated so badly that she suddenly needs urgent medical care that will cost her a lot of money.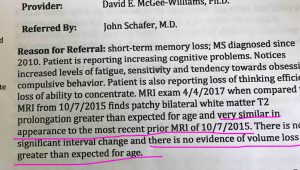 Nowhere in that document does it says anything about "severely impaired" or that there was very little room for hope. In fact, it clearly says she's had no change in her condition since October of 2015.
FRAUD FRAUD FRAUD FRAUD FRAUD!
Trinity St. Clair will have you believing her mother is dying. And I guess technically, we all are.  But does that mean she really needs $75,000 to SAVE her mother? No. She needs that money to save her own ass.
Trinity St. Clair has run gofundme campaign's three times in the past. Each time claiming her mother was sick.
She told some people her mother has cancer. She told another that her mother has Alzheimer's. Now she's going with the MS story. It's like we have another Raven Alexis on our hand.
In reality what her mother has is a con artist for a daughter. Trinity St. Clair needs money for the massive balloon payment due on her house on June 1st. That's a fact you can take to the bank.
If you were a victim of Trinity St. Clair's GoFundMe.com scam, here is how you get your money back!
Anyone who donated should file fraud charges at your local police department. It doesn't matter how big or small your donation was, in reality you gave the money in good faith, that makes what Trinity did to trick you a crime.
Make sure you include a link to her gofundme page, a printout of what she claimed the money was for and proof you actually donated money when you go to file your police report.
Simply let the police know that she led you to believe the "donation" was for her sick mother when in fact, she is collecting the funds to use to pay off her house.
Now when you file your report you want to get a copy of the case #. You'll need this for the next step, to get your money back.
In some cases (not all but most lately) you must file a police report of fraud for the bank to refund your money. They will request a copy of the police report to show that you made the donation in good faith and were in fact defrauded. The police report or case number will be all you probably need to provide the bank to get your money back from the bank.
Just know that there is a limit on how much time you have to do this. In some cases, it's as little as 30 days, so don't hesitate, file your police report ASAP.
Don't be another Trinity St. Clair victim and don't let her get away with it. Trinity St. Clair is committing a crime and scammed over 55 people out of almost $11,000. Don't let this crime go unpunished.
File a police report and then call your bank and do a chargeback.
Hello, my name is Kelli Roberts. I am a published author, AVN nominated producer, and webmaster who has worked in the adult industry since August of 1996.