Former Porn Star Robert Baker (aka Rob) Now Facing Death Penalty for MURDER!
There once was a porn star named Dee. Some of you may remember her as Dee Baker. She only took on the last name after marrying Robert Baker but for the most part she just used her first name "Dee". Here is a picture of them from June of 2005 at the Erotica LA show.
She was a cute girl from Puerto Rico. Despite the fact that she was actually Latino, some people were convinced she was black, and that allowed her some flexibility in the roles she was cast in during the span of her career in porn. Before retiring she starred in over 550 adult movies.
Dee began her career when she was about 18 years old. But she didn't enter the industry alone; she was chaperoned by her then boyfriend, Rob. They came as a pair. He wasn't just a suitcase pimp though; he was also her co-star. She did all her original anal scenes with him and him alone.
Rob (aka Robert Baker) would star in almost 80 movies that we know of. He was active as a performer from 1997 to around 2000.
This man worked for Wicked Pictures, Vivid Video, Adam and Eve, Evil Angel, Metro, Kiss Ass Pictures, Sin City … these are all well-established companies.
For years if Dee was in a movie, there was Rob, starring right alongside her.
Dee was by all accounts, a well-liked starlet with a quickly growing fan base. But what fans and co-workers didn't know was that her co-star, who she would also later marry, was a pedophile.
A few years before entering the porn industry he was convicted of lewd and lascivious contact with a minor and was even a registered sex offender.
At the time of his crime, he was a 36-year-old man and the victim was 14 or 15 years of age.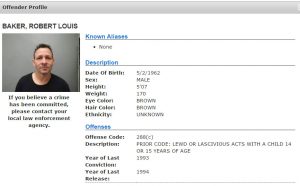 When Dee and Rob broke up, she went on with her career as a performer. Rob, however, decided to become a full-time suitcase pimp porn manager for girls like Carmen Luvana. Carmen Luvana was hot. She was even a one time Adam and Eve contract star.
In fact, it was Rob, who played a big part in getting Carmen Luvana into porn in the first place.
The question is, did Carmen Luvana know that her "manager" which back then was just another way to say unlicensed talent agent, was a pedophile?
Did the companies that worked with him like Vivid, Metro, Wicked Pictures and Adam and Eve (just to name a few) know? If so, why did they allow this monster in the industry in the first place?
He was a sexual predator or preyed on young, naive girls.
Today we joke about the term suitcase pimp, but we probably shouldn't. What we are so quick to joke about is a grown man who preys upon the na·ive·té of young women. Their inexperience allows men like Robert Baker to take advantage of them.
And we as an industry tend to turn a blind eye to such things. The question is, had we done something back then about this man, could we have saved the life of a man he would go on to murder?
Fast forward to 2017. Rob now goes by the name "Robert Baker."  He's 55 years old and still living in California and still taking advantage of women.
This time his new free ride girlfriend was the wife of a wealthy celebrity hair stylist. Notice I said was … that's because a few months ago Rob killed him. He and a friend showed up in the man's house on January 23 and stabbed him to death.
He and his girlfriend Monica Sementilli, the victim's wife, were charged with murdering Fabio Sementilli a few days ago.
According to police, they did it so they could collect Fabio Sementilli's $1.6 million life insurance.
Robert Baker was involved with Monica for a year and a half. After cheating on her husband for all that time, apparently, she decided that wasn't enough for her. She wanted more. She wanted, and that meant his money and his life insurance policy.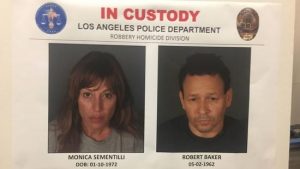 On the day of the killing, two men were seen jogging up to the home before the slaying. Hayes (the detective for the LAPD) said the men drove away in the dead man's Porsche and were recorded by a surveillance camera as they abandoned the vehicle five miles away.
The cops were able to match DNA gathered at the crime scene and in the vehicle to Robert Baker. He was already in the state and national databases because of his previous conviction in 1993 for lewd and lascivious conduct with a minor.
The question is, why do we turn a blind eye to people like Rob and allow him to work in the adult industry for as long as he did?
Robert Baker was a convicted pedophile before he even entered the adult industry. So why the heck did so many companies work with him?
Is it not our responsibility to weed out these kinds of sick fucks and protect the female performers in our industry? Don't we have some sort of moral obligation to at least try?
Right now Robert Baker is sitting in jail with his girlfriend Monica Sementilli, on the charge of murder with special circumstances. This means they both face the death penalty.
A third man is still at large.
The person still being sought is described only as about 5 feet 5 inches to 5 feet 7 inches tall with a stocky build. He wore a hoodie pulled tight over his face. He's believed to be an associate of Baker.
Although Rob hasn't been directly involved in the adult industry for years now, he is still believed to have some indirect ties and friends that are active in the industry.
If any of you know Rob and know who this other man wanted by the cops may be, we urge you to call the LAPD Homicide Special Division at 213-486-6890. If you call after hours, please call 1-877-527-3247. Do the right thing, report this man. You can also report what you know online to LAPDonline.org.
Robert Baker and this man (whoever he may be) brutally murdered a man in his own home. Stabbed him with a knife multiple times and left him to slowly die in a pool of his own blood.
Hello, my name is Kelli Roberts. I am a published author, AVN nominated producer, and webmaster who has worked in the adult industry since August of 1996.