The Porn Star, The Pedophile and The Stalker
If someone was to tell me that a brand new porn star had not one, but two deadly stalkers go after her, I would, like most people, probably think the girl was a little cray cray.
This is one of those stories that prove real life is stranger than fiction. This girl has been living a nightmare, any porn star's worst nightmare when not one but two different fans come at her and make her life a living hell.
Farrah Valentine who some may know as Serenity Haze is this person I'm speaking of.  She began her career in porn only a year ago and almost overnight attracted the attention of a man who online goes by the name of DreamWalker. He spent months making her life hell.
Creating fake social media accounts in her name, pretending to be her online and then finally, one magically glorious day, after filing a police report, the cops showed up to investigate and they found he was in possession of CHILD PORN!
Michael Snoreen aka DreamWalker was arrested and spent months in a Nevada jail. As of this posting, he is currently out on bail awaiting trial.
The problem is, DreamWalker wasn't the only person making Farrah Valentine's life a living hell. There was, in fact, another man lurking in the shadows.
This man started off catfishing the girl. He sent her a picture of a good looking guy around her age and pretended to be someone by the name of Bradley Soileau.
In light of her situation with her stalker DreamWalker, she found comfort in this stranger who was pretending to not only be her friend but her knight in shining armor.
So who was the man really? It turned out to be a man by the name of Franklin Rush, who fell in love with Farrah Valentine and apparently decided he didn't want her doing porn anymore. He was in love with her and he wanted to take care of her.
This is how it all began in his own words …
So how is everyone. This my first blog. I want to tell everyone a story about how I was a fake person. Back in July somewhere around there I told a big story about what my identity was on Twitter. I saw this girl online next p*** star and I liked her a lot. I will leave your name out of this because of her identity. So I made a fake account on Twitter fake pictures the whole ten yards and she like me. Well we got to get to know each other and we talked for a long time on Twitter and on the phone. I got to know this girl a lot and I fell in love with her and I knew someday I will get caught lying about my identity well it happened and she broke up with me.

I felt really bad because I knew one day I was going to get busted and it happened. I made another Twitter account first couple weeks I didn't post my picture but she knew about the account she hated me. I don't much blame her and I understand her reasons I'm not liking me. Eventually I'll post the picture a real picture the real me. She like the picture and we started talking again and eventually back on the phone like we were boyfriend and girlfriend again. I love her so much to this day I still do. I went to Louisiana to go see her I wanted to meet her so bad. Things went sour real quick and in a hurry.

There was this stalker girl over and California someone I knew but hated. She caused a lot of problems between me and this girl. On a Tuesday night back about 2 weeks or so I was coming to see her. I should have went to meet her earlier that day but I was scared too. It was a lot of things running through my head and it wasn't because of the marriage that we were going to have. What was on my mind earlier during the day was am I making the right choice do I want to spend the rest of my life with her? The answer to that came to me while I was in Monroe and the answer was yes I wanted to spend the rest of my life with the most beautiful girl I've ever known. She means the world to me and always will.
This is a very typical catfish story that just went from bad to worse for Farrah Valentine (Serenity Haze).
The man is clearly delusional but just pretending to be some hot guy online isn't really the worst thing that could ever happen to a girl. But that's not where this man stopped.
After pretending to be this Bradley Soileau guy, he also created another fake persona, this one a female by the name of Casey Beal. Casey Beal was a crazy girl who also stalked Farrah Valentine and was the enemy of Bradley Soileau. Now keep in mind Bradley and Casey are the same person.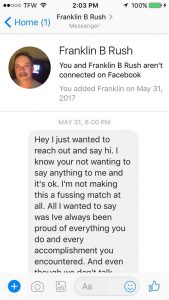 This crazy man claims he bought a house for her in Texas, just so she could stay there if she wanted to go to the home games of her favorite Texas football team.
Then he claimed he bought a Chevy truck for her because he knew she would need a car. He was buying it for her as a wedding gift.
He posted a note on Facebook before about his love for her.
This guy is clearly sick and isn't going to give up going after the girl, even after the police have warned him to back off.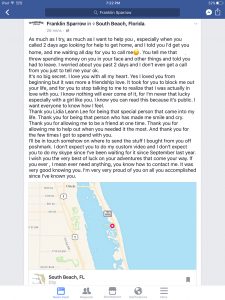 This man created multiple social media accounts claiming to be Farrah Valentine. He would say horrible things to people and obviously, they would respond and be rather upset about what they thought she said.
She would try to get the fake social media accounts taken down but anyone who has ever dealt with that on Twitter knows it isn't so easy, even if you have filed police reports. Twitter especially doesn't seem to give a shit when it comes to porn stars and their haters or stalkers.
These are just some of the Twitter accounts thought to be associated with Franklin Rush.
@michellelee_24
@ihaveaids9999
@therealfarrahxx
@thisnotjeff
@chelsearamon24
@rodrickproduct1
@LAchaturbator
@bust_a_load
@serenity_haze_
@PleasantCamgirl
@soileav_bradley
@xxxfarrahvalXxx
@ipaytowatchboys
@am1hottrash1
It would take months of living this nightmare before finally she would get help from the police. Although the investigation is still ongoing, at least now she's getting some help from the authorities. Something that may very well have saved her life, because when crazy men like this, you never know when it could turn deadly.
Farrah Valentine wanted me to share her story with you, in hopes that others will learn from her mistakes. You can't trust random guys you meet online. You can't trust that a "fan" has your best interests at heart, just because he says he does.
Hello, my name is Kelli Roberts. I am a published author, AVN nominated producer, and webmaster who has worked in the adult industry since August of 1996.