Porn Industry Scammer Khoi Nguyen Arrested for Identity Theft
If you've never heard the name Khoi Nguyen before, consider yourself lucky. Many in the adult industry, however, can't say as much. For a few years now a man by the name of Khoi Nguyen, who sometimes would use the alias Bruce Lee, terrorized many people in the adult industry.
In one particular victim's case, he stole a porn star's identity, bought a car in her name, opened bank accounts in her name, rented an apartment, PO boxes and even started a business in her name. Her credit was obviously ruined and she had to spend thousands of dollars to try and defend herself when the creditors came knocking at her door.
One victim from the adult industry who asked not to be named had this to say … "He made so many of our lives a living hell. I'm glad he finally got arrested. I only wished they would have nailed him for all of his crimes, not just the one. I can't tell you what it's like to wake up every day for months to have to deal with a new creditor calling wanting their money for a credit card or a loan you never took out."
Khoi Nguyen was thought to target victims in the adult industry for identity theft because they often weren't taken seriously by the cops so he could get away with the crimes for a much longer period of time.
We spoke to one victim, a female last year when she was going through all of this. She was horrified to find that the cops didn't seem to care in the slightest the hell that Khoi Nguyen had put her through. She did her own investigation and she found one of the mailboxes that he was using and with the help of that company, they found that Khoi Nguyen was using former porn star Lizzie Bell as a front, to go and pick up the mail and that she even had a driver's license in the victim's name, to impersonate the victim.
"The cops just didn't care," the anonymous adult industry victim said. "I found out where he was having credit cards in my name sent to, and that he was using Lizzie Bell to use them. She had a fake ID in my name and the cops did nothing about it. This went on for over a year until finally, I was able to get my credit locked down and prevent any further accounts being opened in my name. But still, to this day I'm dealing with it all. It's a never-ending nightmare."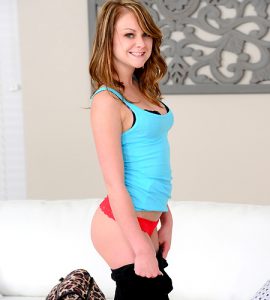 The crazy part of the last victim's story was that when she confronted the police with all of her evidence they already had Lizzie Bell in custody on another unrelated charge. Something she would end up spending something like five months in jail for. They could have easily questioned her at that time, they had her in custody. But according to the victim, they didn't.
Last January he was caught by the FBI in Atlanta and charged with the felony of aggravated identity theft. In October they sentenced him to two years in prison, followed by one year of supervised release. He also has to pay $3,208.43 in restitution to Branch Banking and Trust (BB&T) Bank.
This is a federal charge, so he'll at the very least have to serve a good portion of his time. I think something like 85%. Then he'll still have the year of supervised release.
Despite his many crimes, what they actually got him for was stealing someone's ID,  then opening a fraudulent online bank account in that person's name. Nguyen visited a BB&T Bank branch in Atlanta on more than one occasion impersonating the victim over a period of several weeks.
When Nguyen was encountered by law enforcement, he falsely claimed that he was a federal agent and was arrested. At the time of his arrest, Nguyen possessed more than $11,000 in cash, 20 iPhones bearing stickers denoting portions of phone numbers or complete phone numbers and/or initials, fraudulent Department of Defense identification documents with different names, various state driver's licenses containing Nguyen's photograph with different names, bank and debit cards in various names, gift cards with various institutions, and documents in the name of the victim whose identity Nguyen used to open an account at BB&T Bank.
"Identity theft is a serious crime that has an awful impact on people's lives, costing them not only money, but precious time and resources to fix," said Atlanta Police Chief Erika Shields. "I'm proud of our team's work in partnership with the FBI and the U.S. Attorney to ensure criminals like Nguyen suffer the consequences of preying on hard-working people's finances."
Khoi Nguyen is a 43-year-old man, who spent at least 2 years terrorizing people in the adult industry. While I'm glad they finally nailed him for some crime, it's really a shame they didn't get him for much more.
I'm here to give you the 411 about porn stars and in the adult industry as a whole.