Nikki Benz files last-minute appeal to revive Anti-SLAPP motion, avoid liability for defamation
Attorneys for porn star Nikki Benz (her third attorneys in the case so far) filed an appeal in California's Second Appellate District, hoping to overturn a trial court ruling that permitted a defamation action against her to proceed. The July 2017 ruling denied Benz's attempt to shield herself from liability by using California's Anti-SLAPP law.
(The complete Opening Brief in Benz's appeal is reproduced below)
SLAPP stands for "strategic lawsuit against public participation," meaning a suit that actually seeks to censor, intimidate and silence critics by burdening them with the cost of a legal defense in an effort to get them to abandon their opposition. In other words, they improperly impact a defendant's freedom of speech.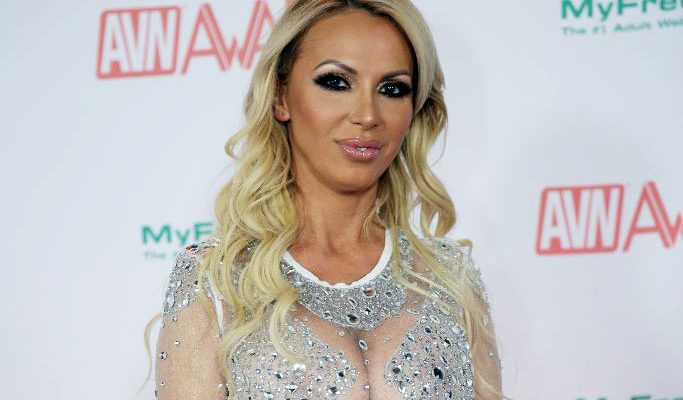 Online allegations
Beginning on December 20, 2016, Benz wrote that she had been sexually assaulted during a December 19 "rough sex" shoot directed by Tony T. and co-starring Ramon Nomar. In January 2017,  T. and  Nomar filed a defamation action against her in Los Angeles Superior Court stemming from the allegations Benz made via Twitter.
Nomar later dropped out of the action (Nomar, no mas!), and then Benz took to Twitter again to make more claims. (SPOILER: again Benz painted herself as a victim, and the self-appointed avatar of wronged performers — Fight the Power!)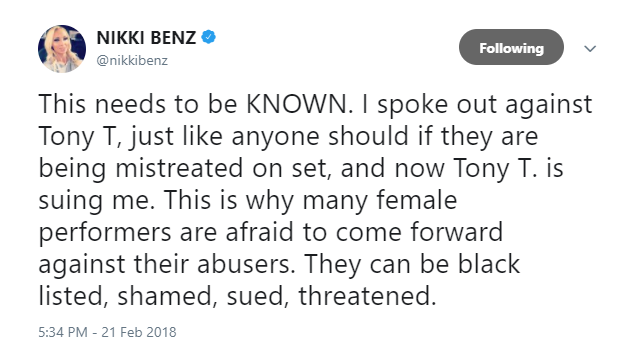 A case for defemation
Video of the scene was screened for members of the industry on January 11, and the consensus view was that it was a rough scene — i.e. a rough sex scenario was enacted — but there was no rape.
In May, Benz filed an Anti-SLAPP Motion to Strike Tony T.'s complaint.
Benz's Motion to Strike claimed that Tony T's defamation lawsuit was baseless and merely an attempt to silence her and punish her for speaking out. Her motion in the case case constituted the equivalent of an Anti-SLAPP lawsuit.
Benz, through her attorney, argued that, "Tony T. presents nothing more than generalized allegations of defamation," and that he "cannot prove [Benz] acted with actual malice."
However, in July 2017, Los Angeles Superior Court Judge Delilah Lyons denied Benz's motions to strike T,'s defamation suit, allowing the case against her to proceed.
"We feel incredibly vindicated by this," T.'s attorney Karen Tynan said in a statement. "Benz went on Twitter to make outrageous claims that were easily refutable, but did tremendous damage to my client's reputation and caused him to lose hundreds of thousands of dollars in contracts and business opportunities. This isn't about silencing free speech, it's about the consequences of making criminal allegations with no basis whatsoever. The Tony T. suit against Benz will proceed."
Bad moon rising
While Judge Lyons found Benz's online statements to be "protected activity," she ruled that, under another prong of the applicable legal test, T. had met his burden in showing that he had a probability of prevailing in his lawsuit on all causes of action.
That was very bad news for Benz.
And there was even more bad news ahead for Benz: in May, the Los Angeles County District Attorney declined to file charges in the case based on the police reports and the evidence collected in the case. The D.A. cited "insufficient evidence" that a crime was ever committed.
Police detectives had interviewed Tony T. twice in 2017. He also provided a hard drive containing all the video footage of the Nikki Benz / Ramon Nomar scene as well as a Nikki Benz / Darcie Dolce scene.
This development means that the District Attorney felt they would be unable to convince a jury that a crime had been committed.
It also means a tougher road ahead for Benz in the civil case filed in April on Benz's behalf in L.A. County Superior Court by attorney Daniel Gilleon.
So, last week, in another attempt avoid liability for defamation, Benz and her defense attorneys moved to revive their Anti-SLAPP claim in California's Second Appellate District.
Analysis of the appellate brief is forthcoming, but a few things stand out at first glance. One is the claim, on page 8, that Benz "was constantly protesting and trying to get Respondent [T.] to stop filming." That's not what she said before.
Below is the Benz appellate brief filed last week in Tony T.'s defamation action: