Michael Cohen Asks Judge to Block Files From FBI Until Search Can Be Done 'Scrupulously'
Attorney Michael Cohen, asked a federal judge in New York on Friday to block the Department of Justice from reading documents related to his longtime legal representation of President Donald Trump that were seized in a recent FBI raid.
The New York Timesreports
Days after the raids, Mr. Trump and Mr. Cohen still were trying to determine what exactly was seized in the raids, which were even broader than have been previously reported. Prosecutors said the raids were part of a monthslong investigation into Mr. Cohen. In addition to searching Mr. Cohen's office and hotel room, prosecutors also obtained warrants to seize material from his cellphones, tablet, laptop and a safe deposit box, according to people briefed on the warrants.

"The searches are the result of a monthslong investigation into Cohen, and seek evidence of crimes, many of which have nothing to do with his work as an attorney, but rather relate to Cohen's own business dealings," federal prosecutors wrote in court papers filed on Friday.

The court papers also disclosed that prosecutors — before the raids on Monday — had already obtained secret search warrants for several of Mr. Cohen's email accounts.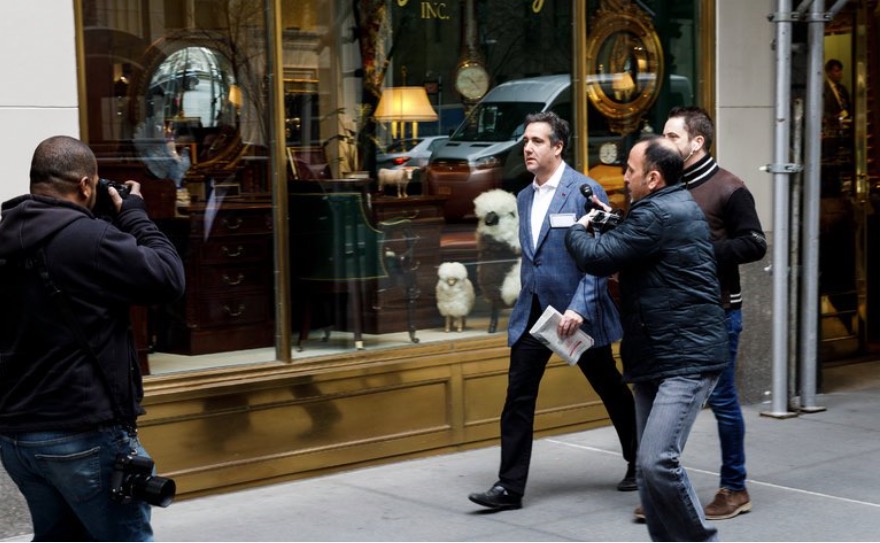 Trump said it was a "disgrace" that the FBI "broke into" his lawyer's office. He called the act done in service of special counsel Robert Mueller's investigation "an attack on our country" and has said that the attorney-client privilege is dead because of the action.
Among the materials taken from Cohen's office were documents related to his payment, made in 2016, of $130,000 to porn star Stormy Daniels under the terms of a so-called 'hush agreement'.
Joanna C. Hendon, a lawyer for Mr. Trump, asked a federal judge to temporarily prohibit the Justice Department from reviewing those materials until the matter can be litigated.

"Those searches have been executed and the evidence is locked down. I'm not trying to delay," Ms. Hendon said. "I'm just trying to ensure that it's done scrupulously."