Mercedes Carrera – One Strike and You're Out!
Mercedes Carrera is now charged with multiple felonies, most of them sex related crimes. Both she and her husband have been arraigned and have been denied bail.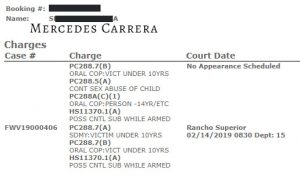 However, being charged with a crime and being found guilty of said crime are two very different things.
The police have stated that they found corroborating evidence to the victim's original statements so that means that it's most likely this thing isn't going away anytime soon.
In addition to the 8 charges of a sexual nature, the police also found meth and two loaded guns at their place of residence. This is great news for one very good reason … typically any drug charge that is connected with a deadly weapon almost always guarantees the person will have to serve some time. Sadly drug laws are usually more severe than crimes of a sexual nature. This is why someone like Marsha May got away with what she did, only having to serve 10 years probation. This is despite the fact that she raped a 12-year-old child and filmed it. So there was 100% proof of the crime. The sick bitch actually filmed her crimes! She was originally charged with 14 felonies and had to serve NO TIME and didn't even have to register as a sex offender.
Luckily California's laws are a little different but we'll get more into that later. First, let's talk about that drug charge that Mercedes Carrera was charged with.
California penal code HS11370.1(A)- a felony – Possessing Controlled Substances and a Loaded Firearm.
While possessing a controlled substance is a serious criminal offense by itself, defendants who are caught possessing both drugs and a loaded gun face heightened criminal penalties under the law. Under California Health & Safety Code Section 11370.1 HSC, possessing controlled substances and a loaded firearm is a felony offense that carries significant prison sentences.
Possessing controlled substances and a loaded firearm is a felony level offense that is punishable by up to four years in prison. Those convicted under this statute would not be eligible for diversion or a deferred entry of judgment.
Now on to those sex-related charges. California penal code PC288.7(A)- a felony – Sex with a Child Under 10 years of age.
The abuse took the form of "inappropriate touching, oral copulation, and digital penetration." For those that don't know, digital penetration means to penetrate the vagina or anus using the fingers.
On Thursday, January 31, 2019, deputies were notified of sexual acts against a minor female victim, which occurred in the city of Rancho Cucamonga. Detectives from Rancho Cucamonga assumed the investigation and conducted an extensive interview with a minor female victim. Detectives learned she was sexually abused several times by, Smith (Mercedes Carrera) and Whitney (Daemon Cris). The sexual abuse consisted of inappropriate touching, oral copulation, and digital penetration, which occurred over four months. 
On Friday, February 1, 2019, detectives served a search warrant at their residence and contacted Smith (Mercedes Carrera) and Whitney (Daemon Cris) in the home. A search of the residence was conducted, and detectives located a large amount of evidence corroborating the victim's statement. Additionally, detectives located methamphetamine and two loaded handguns in the home. 
Whitney (Daemon Cins) and Smith (Mercedes Carrera) were detained and transported to the Rancho Cucamonga Station for interviews. At the conclusion of the interviews, both suspects were arrested and booked into the West Valley Detention Center on various charges of Sexual Acts against a Child. 
On Tuesday, February 5, 2019, the case was presented to the San Bernardino County District Attorney's Office in Rancho Cucamonga for review. After their review of the case, the DA's office formally charged each suspect with eight counts of PC 288.7 Sexual Acts with a child under 10 years old and, one count of HS 11370.1 Possess Controlled Substance while armed with a handgun. Both suspects were denied bail and remain in custody.
Both suspects have now been arraigned and their next hearing is scheduled for next week – on Valentine's day 2/14/2019 at 8:30 am at the Rancho Superior courthouse.
They were denied bail. More specifically they are ineligible for bail. This is done when the inmate could pose a danger to himself or herself or the community if released.
California Penal Code 288.7 PC addresses situations where an adult (someone 18 years of age or older) engages in certain sexual acts with a child less than 10 years old.
Although child molestation, in general, is treated as a very serious crime in California, this section addresses the most serious and most extreme instances of child sexual abuse.
Sometimes called a "one strike and you're out" law, a conviction under this section triggers life in prison, even upon a first offense.
Anyone convicted of sex acts with a child under 10 in California will be required to register as a tier three sex offender for life.
Sex with a child 10 years of age or younger is what is known as a "strict liability" crime, meaning that the prosecution does not need to prove the defendant had malicious intent when the act was performed. Proving that the defendant committed the act is sufficient to secure a conviction.
Convictions for committing a sexual act with a child who is 10 years old or younger are among the harshest of any sex crime in California.
Violations of Penal Code Section 288.7(a) are punishable by imprisonment in a state prison for a term of 25 years to life.
Violations of Penal Code Section 288.7(b) are punishable by imprisonment in a state prison for a term of 15 years to life.
When a punishment includes a set number of years and the possibility of life in prison, the person must serve the minimum number of years specified, and then can only be released by a positive determination in a California Parole Board Hearing (also known as a "lifer" hearing).
In other words, ** if ** a person is found guilty of violating Penal Code Section 288.7(a), he or she must serve at minimum 25 years, and then be found suitable for release by the Parole Board.
In addition to these punishments, a person convicted of violating either 288.7(a) or 288.7(b) must register as a sex offender pursuant to California Penal Code Section 290. Sex offenders must renew their registration every year for the rest of their life. Failing to do so can result in a new prison sentence.
Now, all we can do is sit and wait for the next hearing which is scheduled for next week. In the meantime, we can take a look back at a series of tweets Mercedes Carrera made in 2015 about pedophiles. Let's hope she gets her wish!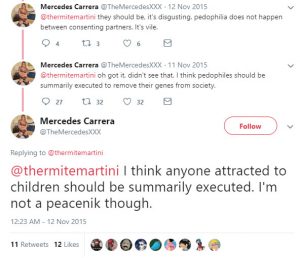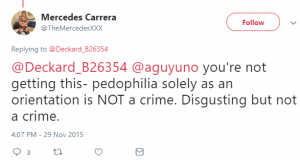 The irony here is that Mercedes Carerra puts on a front as an activist, fighting the good fight. In a YouTube video, she once said: "feminists whining to the UN about mean tweets while they ignore cultural child rape and the punishment of the men who stood up to it."
In the recently released book (The Last Days of August) she said she felt Kevin Moore murdered August Ames. She flat out accused him of doing it, despite all the evidence to the contrary.
Hello, my name is Kelli Roberts. I am a published author, AVN nominated producer, and webmaster who has worked in the adult industry since August of 1996.