Backpage.com execs get January 2020 trial date in Phoenix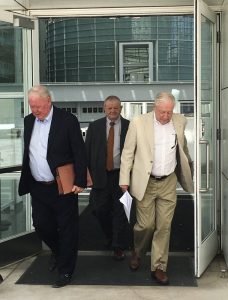 A tentative trial date has been set for two founders and five employees of Backpage.com in a case in which the classified advertising website has been accused of knowingly running ads for illicit sexual services.
Michael Lacey, James Larkin and five employees of the site were scheduled for trial on Jan. 15, 2020 in a Phoenix, Arizona federal court. Attorneys were granted enough time to review an estimated 7 to 9 million pages of documents about the case.
As AVN reports
Lacey made his first public remark on the case as he exited the Phoenix courthouse on Monday, responding to a question about the charges against him by saying, "Nonsense!" according to a report by El Paso, Texas, TV station KVIA. A large part of Backpage's operation was based in Texas.

Lacey and Larkin have already entered not guilty pleas after being hit with a 93-count indictment that charges them with laundering million in profits from the site, because they knew that the money came from prostitution, including child prostitution, according to the accusations.
The indictment accuses the site, its executives and employees of ignoring warnings to stop running advertisements promoting prostitution because the lucrative enterprise brought in half a billion dollars in sex work-related revenues since its inception in 2004.
Carl Ferrer, chief executive of Backpage.com, which was seized by the federal government in early April, has already pleaded guilty to charges in California and Texas. Under the terms of his plea deal, Ferrer agreed to turn state's evidence against the company.
Ferrer also admitted that he and other Backpage executives had used "shell bank accounts and cryptocurrency processing companies" to conceal the source of their revenue.